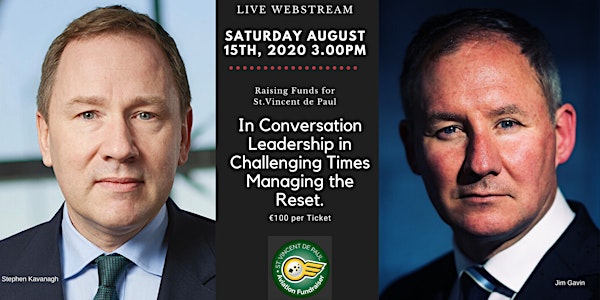 An Audience with Stephen Kavanagh & Jim Gavin in aid of SVP 1500L 15/08/20
Join our live Webstream as Michael Comyn talks with Stephen Kavanagh and Jim Gavin, on Saturday 15th August at 1500hrs, in aid of SVP
Refund Policy
Contact the organiser to request a refund.
About this event
"In business, and in sport and education, no leader can control the outcome of the contest or competition. But you can control how to prepare for it."The COVID crisis shattered many of the assumptions and tools that business leaders rely on for decision-making. Now with a restart in progress, we need a new framework. Join us on Saturday, August 15th at three o'clock for an Audience with Stephen Kavanagh and Jim Gavin.
These leaders have between them extensive experiences to call on, given their business, sporting and aviation experience. It will be an interesting hour as Jim and Stephen share with us the values of meticulous planning, decision making and communications - and those all-important people skills that have brought them both significant success.
All the proceeds from the event go to the annual Irish Aviation Fundraiser for the St. Vincent de Paul Society which to date has raised over €186,000 since it began. Join us on August 15th at three.