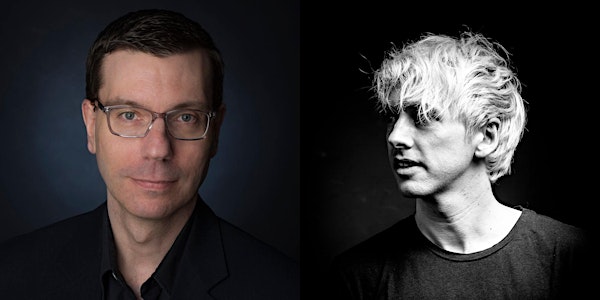 An Evening of New and Experimental Music with Electric Guitar
Thomas Schuttenhelm (Philadelphia, USA) with Sam Perkin (Ireland/France).
When and where
Location
The Workman's Club 10 Wellington Quay D02 VX36 Dublin 8 Ireland
Refund Policy
Contact the organizer to request a refund.
About this event
DUBLIN JAZZ CO-OP
Sunday 7:30pm, 11 December 2022
Concert 8pm-9pm (1 Hour)
The Vintage Room, The Workman's Dublin
ARTISTS
Thomas Schuttenhelm (Composer / Electric Guitar)
Sam Perkin (Composer / Electric Guitar)
ABOUT
Contemporary Guitar specialist Thomas Schuttenhelm (Philadelphia, USA) and and Irish Composer Sam Perkin (Ireland / France) will premiere a new work by Perkin inspired by the writing of Charles Eisenstein, author of The More Beautiful World Our Hearts Know Is Possible, in an intimate evening of new and experimental music for Electric Guitar.
Thomas Schuttenhelm will also perform some original works, and works by Kyle Grimm (Serendipitous I), Matthew Kennedy (Figures & Metaphors), Sam Perkin (Stepping Out Of The Loop), Neely Bruce (The Sacred Guitar), and work by Frank Zappa.
PROGRAMME
Serendipitous I - Kyle Grimm
Figures & Metaphors - Matthew Kennedy
Stepping Out Of The Loop - Sam Perkin
The Sacred Guitar - Neely Bruce
A new work by Sam Perkin inspired by the writing of Charles Eisenstein
And works by Thomas Schuttenhelm and Frank Zappa
SAM PERKIN (Composer / Artist)
Sam Perkin is an Irish composer and artist who has worked with leading musicians, ensembles and orchestras in Ireland and abroad. He is based between France and Ireland and in 2022 he completed a residency with Crash Ensemble, Ireland's leading new music ensemble. Recent artistic work includes: 'Alta' (2019), a collaboration with a Finnish scientist incorporating the recently discovered sounds of the Northern Lights for Alta Chamber Music Festival, Norway; 'Language' (2017) for American contemporary violin specialist Miranda Cuckson; 'Waves' (2016-18), the fruit of a bountiful collaboration with The Irish Chamber Orchestra; String Trio "Flow" (2018), released by the Louth Contemporary Music Society Label; 'Grey Area' (2017-19) for Crash Ensemble with Street Skateboarding Film at Musica Nova Helsinki, Finland; 'Twitter' (2017) for Flute Choir, Smartphones and Audience for La Cote Flute Festival, Switzerland; and 'Children In The Universe' (2020-22) a hybrid-symphony for Crash Ensemble, Diamanda Dramm and Halo, at New Music Dublin and Galway International Arts Festival.
"A thing of mesmerising beauty." — David Kettle, The Scotsman
www.samperkincomposer.com
THOMAS SCHUTTENHELM (Composer / Guitarist)
It began in a dystopian suburb, with a dusty guitar borrowed from an older brother. Since those childhood days, composer, guitarist and author Thomas Schuttenhelm has busted beyond the suburbs and brought his exquisite craft, richness of style and illuminating scholarship to the world of contemporary music.
His compositions tend to have a strong conceptual component, and they reflect the post-historical conditions of our 21st century. Often embedding a narrative into the music, Schuttenhelm takes great inspiration from musical, literary, poetic, visual, and theatrical sources. He is also highly biographically inspired and influenced by the musicians that he collaborates with. Those collaborators have included such artists as Bang on a Can All-Stars' Robert Black, Tempo del Fuoco and the Connecticut Trio. Popular recording artist Paul Bisaccia featured Schuttenhelm's music on the PBS Special, The Great American Piano, calling it "rich in content, delicate, elegant, and deliberately beautiful."
Schuttenhelm performs extensively as a concert guitarist, and has played with the FIREWORKS Ensemble, toured with Purple Rock Productions and performed with the Wellspring Dance Company. Also an accomplished author, he has been published by Cambridge University Press and Faber and Faber. BBC Music Magazine hailed his writing as "detailed" and "illuminating."
Schuttenhelm is on the faculty at the Hartt School at the University of Hartford and Central Connecticut State University. He has served as both a UK Fulbright Fellow and British Music Studies Fellow, and he is currently an Edison Fellow at the British Library and a visiting scholar at Duke University.
www.thomasschuttenhelm.com
Supported by The Arts Council of Ireland