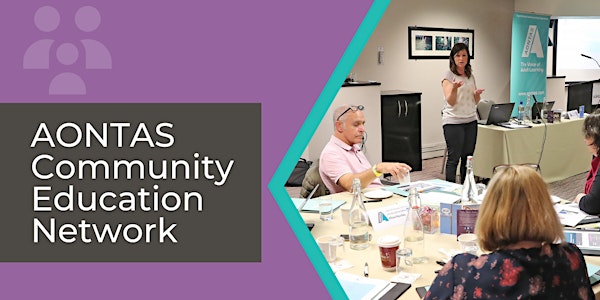 AONTAS Community Education Network (CEN) meeting
AONTAS Community Education Network (CEN) meeting - June 2022
About this event
Date: Thursday, 23rd June
Time: 9.30am - 3.15pm (lunch will be provided between 1pm-2pm)
Venue: Kelly Theatre, National College of Ireland, Dublin ( Mayor Street Lower, International Financial Services Centre, Dublin 1)
Topic:
We are delighted to finally hold our first face to face CEN meeting in over 2 years. The theme of the event will be centred around 'Building European Connections' and we will be joined by our Erasmus+ Regale Partners in Europe to share knowledge and experiences of community education across Europe. For more information on the Regale Project please follow this link: https://regalenetwork.eu/
We will also be hearing from Leargas about European Funding opportunities available to community education providers.
We are delighted to have two CEN members presenting on their own work. Stephanie Kirwan (Meath Partnership) will speak about their EU projects and Mary Hughes (LCEN) will take the group through the Recognised Prior Learning (RPL) case study she conducted in Limerick. This meeting is for AONTAS Community Education Network (CEN) members only. To become a member of the AONTAS CEN please click here.
Agenda:
09:30am - 10:00am Tea, coffee, networking
10:00am - 10:10am Welcome, Suzanne Kyle, Ecem Akarca, AONTAS
10:10am - 10:35am Presentation to AONTAS CEO, Niamh O'ReillyGroup introductions and introduction to Community Education in Ireland, Suzanne Kyle, AONTAS
10:35am - 11:05am European Project Presentations Stephanie Kirwan & Jennifer Smith, Meath Partnership; Mary Hughes & Elaine Farah, Limerick Community Education Network, LCEN
11:05 am - 11:15 am Q&A
11:15am - 11.20am Comfort break
11.20am – 11.35am AONTAS Advocacy updates, Dearbháíl Lawless, AONTAS
11:35am- 1:00pm EPALE and Leargas presentations and workshop Manika Nia-Dixon, Jemma Lee & Lucia Iacavone, Léargas
1:00pm - 1:45pm Lunch
1:45pm - 2:45pm Workshop debriefing and discussions Manika Nia-Dixon, Jemma Lee & Lucia Iacavone, Léargas
2.45pm - 3.00pm Wrap-up and close of meeting, Suzanne Kyle, AONTAS
For more information please contact Amy Gibney, AONTAS Community Education Officer at: agibney@aontas.com