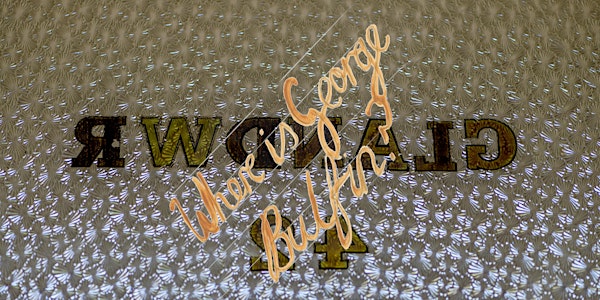 ARTISTS TALK Jamie Cross + Debi Paul
Where is George Bulfin? Jamie Cross + Debi Paul 10am Saturday 1st October, 2022.
When and where
Location
Clayton Terrace Saint Laurence's Road Chapelizod Ireland
About this event
Jamie Cross + Debi Paul
WATA
Conducive to walks and talks both visual artist Jamie Cross and curator Debi Paul have shared in the nearby Phoenix Park WATA will invite visitors to sit, pause, stop, look and ponder both Jamie's artworks and the domestic space of Glandwr. Allowing time for convivial interaction between Jamie and Debi where they will give time to the enlivening, buzzy, activated process of citing the works within her living space. This initial energy coupled with a slow editing and re-visiting of both space and art works. Other aspects which may ping pong through the conversation are a shared love of exhibition going, exhibitions as motivators, artworks as lovers, 'did you see that one, oh yes!' and the shape shifting that these activities bring. They also have a shared love of Glenn Adamson and Edmund de Waal so pared back aesthetics and framed cat pictures may enter the mix.
During my site visits over the past year, I have been fascinated to hear the different uses to which Glandwr has been put over the years and the history of the space. When I learned Debi's idea for the name of the exhibition, Where is George Bulfin?, inspired by her peeling back the layers of this house, it struck me how perfectly the exhibition ties in with my working practice which is heavily influenced by the deconstruction of objects and my desire to understand and reveal their interior. Something Debi and I have discussed a lot is the installation of the works and how the space will 'feel' following this. I am very interested in seeing how Glandwr as a space will influence and interact with the works and vice versa. Jamie Cross, 2022.
The exhibition is titled Where is George Bulfin? borrowed from by the decorator who penciled his signature proudly on the left-hand side of the hallway as was the custom. His signature which was uncovered when I gently and sensitively pulled back the wallpaper layers offering respect to this place it's dwelling and all that it has brought and will bring. Glandwr was once a place of re-habilitation for men leaving the prison system. It has been a place of re-purposing and harnessing the power of making do. My practice as a curator, is concerned with place, materiality, and philosophy with a focus on the body, performative practice and how public engage with artworks, often working with/learning from site's of interest and local communities. I like to work quite often outside of a gallery context but also see the benefits of working within a white space, always trying to bring visceral experiences into what can often be perceived as rigid or seen my some as inaccessible. At Glandwr, I'm working with the architecture of the space as the universal idea of home and how that can break down boundaries of how people engage with art. Debi Paul, 2022.
Short Bio's
Jamie Cross; When does a space begin? Do you have to experience a space in order to fully understand it? I am motivated by the need to answer such questions. My practice focuses heavily on the exploration of hidden (and sometimes inaccessible) spaces that are not obvious to the human eye. I have a need to delve into and explore what things look like "on the inside" and realise this through my work. I am also interested in how a certain type of space is wholly dependent on how such space is perceived (or is capable of being perceived) and how a person's concept of space can transform with a new and unfamiliar "interruption" in the space. By creating and then capturing disturbances in the architecture around me, my work materialises the evolution of a space and the altering experience of it. I am interested in the relationship between the work and its situated space and want to expand the definition of 'how sculpture might happen'. Recent Exhibitions include, Summer Commissions The Dock (2020), Mata Irlandia-Irelands Eye; World Trade Centre Jakarta(2021); A Soft View, Oonagh Young Gallery (2022).
Debi Paul is a visual artist and curator; her practice is rooted both in performance and place, with a focus on the body. She often draws on/learns from site-specific communities of interest. Her work observes the connection between practice and philosophy and ideas that relate to the material world. The work aims to disrupt and challenge routine interaction with the familiar. Curatorial projects include; Palimpsest; Hazel Egan, Site Specific Work, Black Church Print Studio Street Cabinet; Living Balance; Caoimhe Dalton, Kate Fahey, Hazel Egan and Suzanne Walsh, Black Church Emerging Curator Award (2022); Home Bodies; Joanne Reid, Sibyl Montague and Jennie Moran, Glandwr (2021), Behold the Anchoress!; Eavan Aiken + Edwin Kelly, The Darkroom (2017); Configurations of Materiality, a workshop with Vanessa Donoso Lopez, Project Space IMMA (2016); Statecraft, (co-curated) Project Space IMMA (2016); Osmosis, Eunmi Chun, Mirei Takeuchi, Mizuki Takahashi + Sam Tho Duong, Christodoulos Makris, Temple Bar Festival of Ideas and Politics (2015).