Join this "Ask The Experts" webinar hosted by Codema to hear from a panel of home energy experts and have your questions answered!
About this event
Starting the journey of making your home more energy efficient can be a daunting task from understanding where the best place is to start to knowing what grants are available! As part of Dublin's Climate Action Week, Dublin's Energy Agency, Codema has brought together a panel of experts to share their advice and to answer some of your burning questions.
We are delighted to have the following experts join us:
Noel Rowland, Churchfield Home Services (The Renewable Technology Expert)
Ruth Buggie, SEAI (The Grants Expert)
Eric Dennis, KSN Energy (The Home Energy Upgrades Expert)
Do you have a question for our experts? We want to hear from you! When you sign up make sure to submit your question and indicate what area you are most interested in hearing about.
We look forward to welcoming you September 18th, in the meantime feel free follow us on social media @CodemaDublin for updates and why not check out our Ask The Expert YouTube series for some inspiration!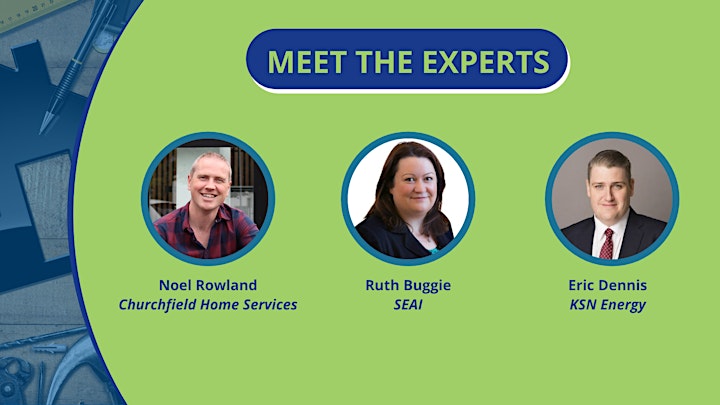 Noel Rowland is the Managing Director of Churchfield Home Services, an organisation providing a full range of insulation, heating and renewable upgrades to domestic homes in Ireland. Over the past 12 years, Noel and his team have completed energy efficiency upgrades to over 5,000 homes through a variety of SEAI Funded Programmes.
Ruth Buggie is the Sustainable Energy Communities Programme Manager with SEAI. She joined SEAI in 2005 and has managed a number of national grant programmes including the SEAI Energy Poverty programme, the Better Energy Homes Scheme and the Area Based programme. Ruth is responsible for the development and deployment of the Sustainable Energy Communities programme.
Eric Dennis has worked with KSN Energy on Sustainable Energy Authority of Ireland (SEAI) programmes for seven years. Eric currently manages quality inspections on a number of Home Energy Grant programmes, is the Sustainable Energy Communities County Mentor for Fingal, and is a great source of practical advice on home energy upgrades.
Organiser of Ask The Experts: Live Q&A