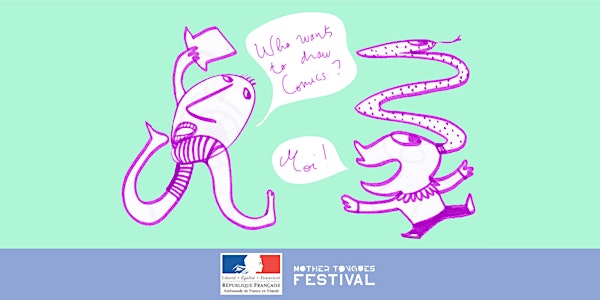 Aventures Bilingues dans le Comic-Strip
Bilingual comic strip workshop (French+English; for children 6+)
Refund Policy
Contact the organiser to request a refund.
About this event
In this fun and energetic bilingual (French-English) comic strip workshop, we will take ourselves and our loved ones on new adventures! Come and be the hero/heroine of your cartoon. Fiona will guide you through a range of ice-breakers, warm-ups, drawing games and drawing prompts. By the end of the event, you will have a series of mini comic-strips to show your friends and family.
The workshop is for children 6+. Parents are welcome to draw too.
Atelier Bande-Dessinée bilingue (Français-Anglais)! Dans cet atelier joyeux et dynamique, Fiona t'invite à te mettre en scène et à partir pour de nouvelles aventures! Au gré de jeux, d'exercices, et d'invitations graphiques, deviens le héros/ l'héroïne de ta propre Bande Dessinée et réalise des petite BDs à partager avec tes amis et ta famille.
This workshop is supported by the French Embassy in Ireland
About the facilitator
Fiona Dowling is a French-Irish Visual Artist and Storyteller. She was born in Dublin, educated in France, and after 20 years back in Ireland, she still speaks with a French accent! Fiona is currently working on an autobiographical Graphic Novel combining her drawing, painting and storytelling skills. She is excited to be sharing her love of comics with you this year at the Mother Tongues Festival.
This event is part of the Mother Tongues Festival. Check out our rich programme of events: www.mothertonguesfestival.com
**With the Festival Pack you will get a ticket for your event, a special postcard and a copy of Language Explorers. This book is the perfect companion to your family's festival adventures!