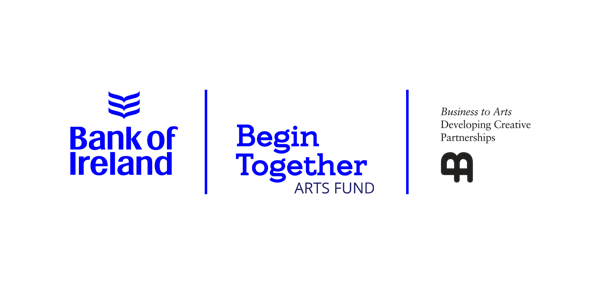 Bank of Ireland Begin Together Arts Fund - General Overview & How to Apply
Sales Have Ended
Registrations are closed
Thank you for your interest. This webinar has already taken place. If you would like to find out more about the Bank of Ireland Begin Together Arts Fund in Partnership with Business to Arts, please see www.businesstoarts.ie/artsfund/bank-of-ireland
Register for information about how to apply for the Bank of Ireland Begin Together Arts Fund in Partnership with Business to Arts
About this event
The Bank of Ireland Begin Together Arts Fund in partnership with Business to Arts (The Fund) will distribute a total of €1million between 2020 and 2022 to support artists and arts projects across the island of Ireland (Republic of Ireland and Northern Ireland), including all art forms whose projects benefit a range of audiences.
The Fund will support or commission artists or groups of artists to work with a partner organisation (e.g. a venue or event, arts organisation, community/voluntary organisation or another funding agency/organisation) in the development of new or existing artwork(s) / arts project(s). The creation, enjoyment and engagement with arts and culture has been particularly challenging throughout COVID-19. As we continue to live through the pandemic and look forward to a time when society will reopen, we are seeking to fund artwork(s) / art project(s) that align with one of these two criteria:
have been adapted due to COVID-19
are inspired by/respond to COVID-19
We realise that we are unable to support all areas of need being experienced by the arts sector with this fund, and as a result we have focused on the above two criteria. A consultation process conducted by Business to Arts has informed the design of these criteria. Read more about this process here.
Applicants can request funds between €3,000 – €10,000 / (STG equivalent), and average grants will be €5,000 /(STG equivalent), with maximum grants of €10,000 / (STG equivalent). Arts projects with larger budgets that have secured funds elsewhere are encouraged to apply. With each grant round, The Fund aims to provide funding to an arts project in each county on the island of Ireland.
Webinar Agenda:
Business to Arts - Who we are and what we do
The Bank of Ireland Begin Together Arts Fund
Eligibility Requirements and Criteria
How to Apply – Our Online Application Process
Questions and Answers
Artists and partner organisations (e.g. arts organisations, community/voluntary organisations, etc.) are invited to attend this webinar which will be hosted via Zoom.