Learn how to approach any assignment, complete it with flying colours, and make the agency and client want to work with you again and again
About this event
Performing at an interpreting assignment is the highlight of interpreter's life. This is when we really show our level of professionalism.
We all take time to prepare for every assignment. Still, despite all the groundwork, unexpected things happen during an interpreting assignment, and we have to be in our top condition to react to them promptly and skillfully.
The interpreter's work does not finish with the end of an assignment, though. There are forms, invoices and records that await attention. Until these are dealt with, the job is still "hanging over"you.
During this webinar, we will cover the most important "dos" and "don'ts" to be kept in mind before, during and after an interpreting assignment:
Before:
Getting all details right
Preparation: research, terminology, briefing, etc
During:
Establishing the protocol
Impartiality and Professionalism
Dealing with challenges
After:
Giving and receiving feedback
Keeping track of attendance and expenses
Invoicing and following up on payment
If you choose one of the paid options (CV/Resume Review or CV and Social Profile Review), we will contact you to get your details, and our talent & training team will review your current CV / Social profile and give advice on how to present them in the most advantageous way.
We would love you to join this webinar. Please register, and you will get the link to the webinar before the event.
NB: Please note that IST refers to the Irish Summer Time(GMT+1)
If you have any questions please contact us at talent@translit.ie
Thank you!
Testimonials
"A very interesting topic also for professionals who've been working for many years: sometimes we tend to forget the things that we learnt at Uni. I especially appreciated the part in the visual triggers. The speaker was clear and well-prepared" - Michela Benuzzi, Italy
"Keep it up, it was lovely to come across such relevant training, thank you" - Webinar attendee
"The training was very well-structured, had valuable information and tips. Many thanks!" - Webinar attendee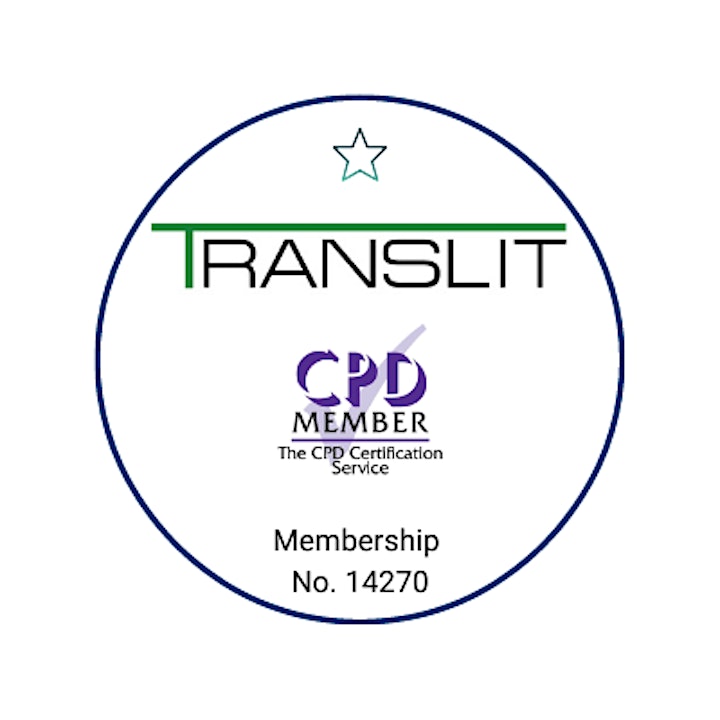 Organiser of Best Practices for Interpreters (before, during and after the assignment)
TRANSLIT Pro is a training branch of TRANSLIT - language service provider based in Ireland. TRANSLIT Pro provides support to freelance interpreters by offering them a range of training webinars, courses and programmes. TRANSLIT is also the creator of the centralised interpreting platform translit.com - a place where interpreters and clients can meet and conduct business.