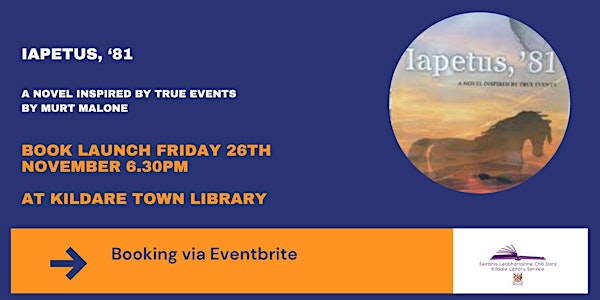 Book Launch - Iapetus '81
Launch of Murt Malone's latest novel Iapetus '81 at Kildare Library Friday 26th November 2021
Date and time
Fri, 26 Nov 2021 18:30 - 20:30 GMT
Location
Kildare Town Library Claregate Street Kildare Ireland
About this event
The novel focuses on the summer of 1981, in a horseracing stable on the Curragh.
Inspired by real occurrences, peopled by imagined characters, the work hinges on two major betting coups, one of which causes the bookies to strike. The RUC riot squad from the Maze prison is called to the racecourse to quell the disturbance. It's the only occasion in horseracing's long and chequered history that bookies/turf accountants went on strike. The 'stroke' made national and international news. This work is layered with the lives of the characters working in the yard, during the summer.
It is an era of hunger strikes, the Stardust disco disaster, and of a flux of young people living in digs in the Curragh racecourse's satellite towns, adjusting to working lives that hold false promise for many.
Iapetus,'81 also explores the transient nature of life in general. Three months in which every life in the yard is changed, with hope preserved or hope gained or hope lost.
Owl Fellas' Press
About the organiser
Kildare Town Library is still at the heart of the community and we are delighted to be able to offer online events to adults and children even while our physical space is closed.
Keep an eye out for our events coming up over the coming months and be sure to book early!
View Kildare Library Service's Privacy Statement for Eventbrite Kildare Library Service Privacy Statement
View Kildare Library Service's Privacy Statement for Online Events Kildare Library Service Privacy Statement for Events