This unique Irish event is LIVE and interactive, answering many of your breeding questions for 2022 in a balanced and independent agenda
About this event
A new year, a new era. There is no denying that 2022 brings with it new challenges that livestock farmers are forced to face. That said, it also brings new opportunities and the animals we breed in 2022 will play a major part in the future direction of profitable dairy and beef production in Ireland.
On the evening of Wednesday 19th of January 2022, Agri Insider is thrilled to bring you the virtual breeding event, Breeding 2022, aimed at answering many of your questions in a balanced and independent agenda. We discuss the major topics facing farmers this breeding season and whether you are in the dairy or beef sector, we will be discussing the burning issues, LIVE and interactive.
Sit back and prepare to be informed, entertained and engaged as our host Ivan Yates challenges our expert panellists. Your questions will set the topic of conversation as he creates debates, discussions (and arguments) on all that is currently relevant to enable you to make the best decisions for your farm, your herd and your future.
This event will be brought to you over our bespoke virtual platform with ease of interaction with exhibitors and sponsors paramount. You will easily be able to ask some of the best minds in the business questions on breeding, bull selection, heat detection technology, calving aids, nutrition and much more. Experts will be live on the night to discuss all things related to dairy and beef breeding season 2022.
We look forward to welcoming all to this FREE virtual event, to give you the opportunity to kick 2022 off in a positive note and with confidence in your breeding decisions.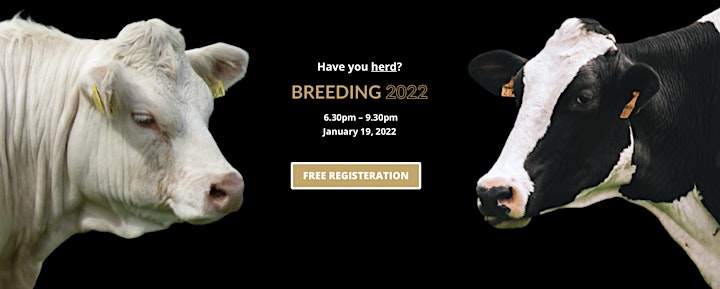 The National Breeding Summit was launched this week on the farm of Bryan Daniels in County Kilkenny. The event, titled Breeding 2022, is supported by AXA Smart Farm Insurance and takes place virtually on the evening of January 19th.
The host of the virtual event, Ivan Yates, was on the farm to get an understanding of one of the main themes of the event, breeding for sustainability. The launch was also attended by representatives of AXA, Christy Doherty and Brian Prout.
Bryan Daniels is an award winning dairy farmer and owner of the Raheenarran Herd. Bryan is passionate about sustainability, both economically and environmentally. He will be speaking on the 'Breeding for Sustainability' panel discussion on the night.
The agenda for the event focuses on the new challenges that livestock farmers face in Ireland and the new opportunity for the animals bred in 2022 playing a major part in the future direction of sustainable, profitable dairy and beef production.
A balanced and independent discussion will look at the merits of Dairy Beef Index, what breeding for sustainability looks like, new technology that is advancing breeding and what breeding decisions are needed for premium beef markets.
The beef breeding panels include world champion Simmental breeder Garth Behan from Laois, ZAG breeder and vet Sean O'Sullivan from Kerry, Joe Burke of Bord Bia among other farmers and breeders nationwide.
The Breeding Premium Beef Stock panel discusses what Ireland needs to breed for market-leading prime cuts and how to breed to achieve premium prices.
The dairy breeding panels include Vicky Lynch from the German 900 cow pasture-based 900 herd, Grasmilch Brandenburg, which recently won a Ceres (Coalition for Environmentally Responsible Economies) Award.
NDC Milk Quality Awards Overall Winner 2021 Michael McCarthy (Limerick) also features along with industry heavyweights Doreen Corridan (Munster Bovine), Tom Baker (Eurogene) and Donagh Berry (Teagasc).
The AXA Smart Farm Insurance supported event is free to attend.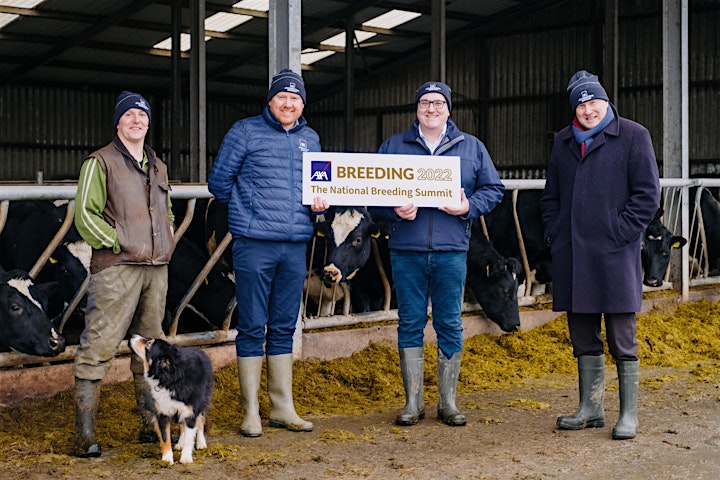 WHY BREEDING 2022?
Agri Insider has built on their reputation throughout 2021 for hosting the premier agricultural related virtual events in Ireland. Some of our highlights included the National Dairy Show, the Farming Renewables Summit, AgriBusiness Summit, the SAT AgriTech Summit and of course, Breeding 2021. The interactions and audience engagement were ground-breaking for virtual agricultural events and left sponsors, exhibitors and farmers all looking for more. So, as unfortunately Covid restrictions lead to more uncertainty and from speaking to those involved in Irish agriculture, the team at Agri Insider have advanced their preparation to run the Breeding 2022 virtual event. The focus on dairy and beef will be clearly and equally split on the agenda.
Forget everything you know about boring webinars and being zoomed out, our productions are regularly reported as 'the best in the field'. Breeding 2022 is designed to provoke lively debate, exciting panel discussions, independent agendas, easy interaction and great show special offers.
We are delighted to have Ivan Yates as our host with his renowned insight and no nonsense approach. Cutting through the waffle to give you, the viewer, all the information needed to make the right decisions for your farm or business.
Agri Insider have prioritised unheralded access for your views to be pushed direct to the experts. All comments and questions can be easily put to some of the industries best minds in real time, anonymously or otherwise.
An ounce of breeding beats a tonne of feeding! The repercussions of breeding decisions will be felt good or bad on your farm for years to come, so make sure you have all the best information available to make the right decisions for your farm. As such, sit back and enjoy a FREE night of engaging and informative agricultural entertainment. We look forward to greeting you on January the 19th 2022.