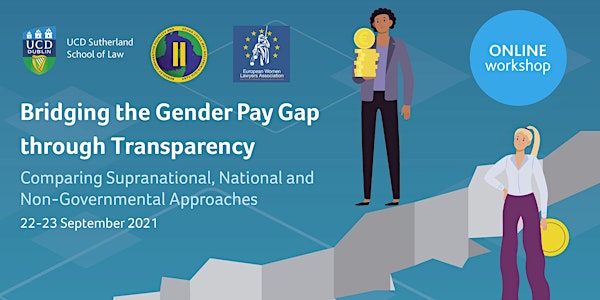 Bridging the Gender Pay Gap through Transparency
Join us ONLINE to contribute to a rich debate on the potential that pay transparency regulation holds to address the Gender Pay Gap (GPG)!
About this event
Systemic differences in wages on the basis of gender have been actively contested at various levels for at least seventy years, with little progress. Around the globe, many jurisdictions are now turning to pay transparency as a tool for eliminating the Gender Pay Gap (GPG) by empowering women with information and placing the onus on the employer to achieve a fair pay structure. This workshop will be a forum to critically evaluate how and to which extent pay transparency regulation can contribute to addressing the GPG. Discussion will focus on key challenges and best practices to consider when enacting, implementing or reforming pay transparency regulation on the basis of the experiences of supranational bodies, a wide range of national jurisdictions and a non-for-profit certification system (The Fair Pay Innovation Lab). The speakers and discussants' diverse backgrounds (scholars in the fields of law, business and economics, practitioners, representatives of international organisations, officers of European agencies and umbrella organisations) will ensure a rich yet accessible debate on the potential that pay transparency regulation holds to address the GPG as a regulatory tool, in theory and in practice.
The agenda of the event is available below. *Please note that all times are Irish Standard Time (IST).*
Further details are available here.
About the organisers:
Dr. Sara BENEDÍ LAHUERTA (LLM, PhD) is an Assistant Professor in Law at Sutherland School of Law, University College Dublin (UCD). Sara previously was a Lecturer in Employment Law at the University of Southampton Law School (UK) (2014-19) and the founding Director of the Stefan Cross Research Centre for Women, Equality and Law (2018-19). Sara's research focuses on discrimination and employment law (at EU and comparative levels). Her research has been published in leading international journals, including the Common Market Law Review and the European Law Journal, and it has been funded by various institutions, such as the ESRC and the Society of Legal Scholars. Sara is the Editor-in-Chief of the Berkeley Center on Comparative Equality & Anti-Discrimination Law E-Journal.
Ms. Katharina MILLER (LLM) is a change agent using legal tools for ethics and integrity in innovation and technology, currently working for the H2020 project Path2Integrity. Katharina is an expert in corporate governance, corporate compliance, gender equality and human rights. She is a founding partner of 3C Compliance and the President of the European Women Lawyers Association (EWLA) as of November 2017. Katharina is the Incoming Head of the EU delegation of the G20 / W20. In 2017 and 2018 she was voted as one of the Spain's Top 100 Women Leaders. She is also an Adjunct Professor at the IE Law School and works as a European Commission Reviewer and Ethics Expert. She is an Advisory Board member of the Berkeley Center on Comparative Equality and Anti-Discrimination Law.
With the financial support of:
Sutherland School of Law (UCD)
With the collaboration of:
The European Women Lawyers Association (EWLA)
The Berkeley Center on Comparative & Anti-Discrimination Law (BCCE)