Exploring the 8 Shields model of deep nature connection and cultural repair.
About this event
An introduction to cultural repair & healing through the 8 shields model of deep nature connection.
The 8 Shields is an 8 direction medicine wheel or cultural map, with each direction being referred to as a Shield for how it holds many different embodiments of the energy of that direction. These life maps have been used by earth-based cultures all around the world since time immemorial, but have largely been forgotten in the modern era.
In this evening event we will explore through group sharing, experiential practice and some informative conversation how the 8 shields map can support us towards embodying a nature based culture and seeding cultural healing in our communities.
We will take you on a journey through the nature's cycles where you will:
- be introduced to the 8 Shields model of how we can embody the wisdom of nature to create personal and cultural healing, with specific examples of how this translates into cultural and community practices
- have an experiential journey of what it looks like to bring your gifts home to yourself and your communities (human and greater nature)
- meet others who are asking this question alongside you.
- meet the facilitators and guides of the existing Bringing It Home year long programme and their story.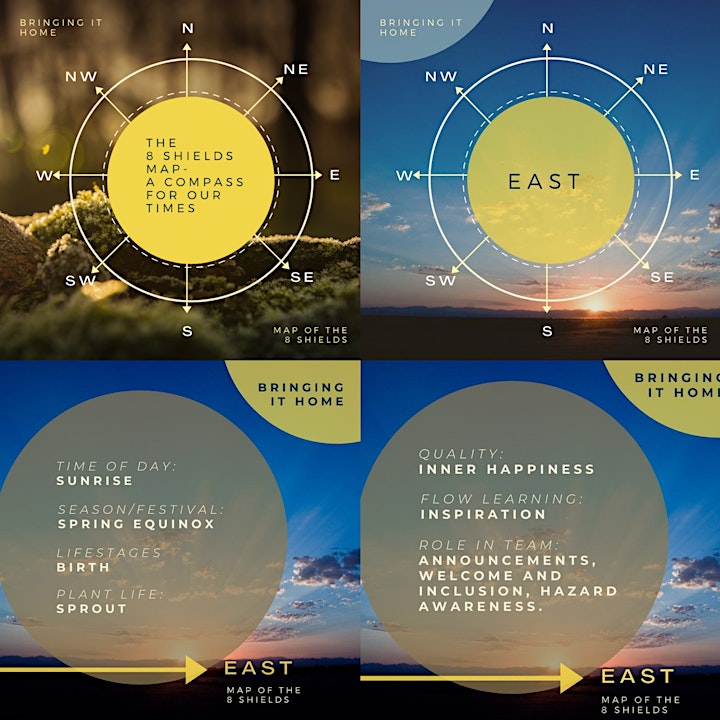 The Call for Nature Based Culture
Are you curious how we move towards healing, change and repair in these times? Do you long to be part of an earth-based culture based on the cycles of nature and to grow more fully into a healthy, connected leader and community builder? Do you feel the calling to connect more deeply to the flows of the seasons and to the place and life around you?
With the seasons and cycles of the day as the foundation to the 8 shields, they show us how to understand the patterns and energies of the natural world, how they are expressed through us as human beings, and how they teach us to be in right relationship with all of life. Just as a geographical map will help you orient to a physical landscape, these cultural maps are there to support you to understand life and to navigate your pathway within it, personally and societally.
It is dedicated to re-awakening the connection attributes within all human beings - happiness of a child, vitality (electricity in the body), commitment to mentoring, empathy & respect for all of life, being truely helpful, full aliveness in connection with all of life, love & forgiveness, and quiet mind (creativity and presence).
This event will explore what will be shared in the upcoming 'Bringing it Home' program, a yearlong on-line (and in your home place) journey into deep nature connection and cultural repair.
Honouring the 8 Shields Lineage
The indigenous teachings that are fundamental to the 8 Shields map were gifted directly by a variety of wisdom keepers from those communities. All donations from this event will be given towards a crowdfunding campaign we are running to give an honorary gift of gratitude towards the Lakota culture, specifically for their safeguarding, through atrocious times, of the sacred connection attributes as named above.