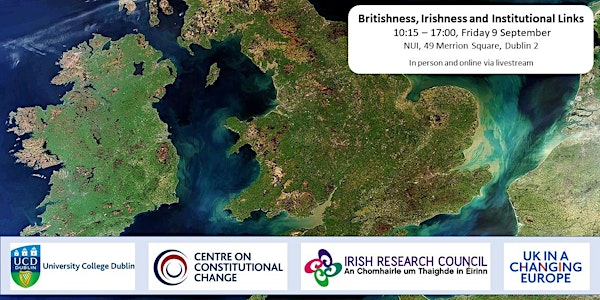 Britishness, Irishness and Institutional Links
A one day hybrid conference exploring British and Irish identities, institutional links across the islands, and constitutional futures.
About this event
**This is a hybrid event. You can register via this Eventbrite to attend the conference in person or remotely, via livestream.**
Britishness, Irishness and Institutional Links
10:15 - 17:00, Friday 9 September
NUI, 49 Merrion Square, Dublin 2
Rapid political and possible constitutional change in and between Ireland and Britain after Brexit is a pressing issue for governments and citizens. Changing senses of Britishness and Irishness are associated with potential new institutional links between them. In this project Irish and British scholars are mapping and analysing these links in and between the two islands responding to changing political identities. The conference will report on and discuss their research findings in preparation for a proposed book on the issues involved.
09:45 - 10:15
COFFEE SERVED FOR IN PERSON ATTENDEES
10:15 - 10:30
Welcome and Introduction
Paul Gillespie (University College Dublin) and Nicola McEwen (University of Edinburgh)
10.30 - 10:45
Thematic overview
Michael Keating (University of Aberdeen)
10.45 - 12.15
Institutions
Territorial cohesion and fragmentation after Brexit: Northern Ireland and the Unions. Nicola McEwen (University of Edinburgh) and Lisa Claire Whitten (Queen's University Belfast)
Britishness, Irishness and Party Systems in Flux. Jonathan Evershed (University College Dublin) and Joanne McEvoy (University of Aberdeen)
The Protocol Beyond Zero Sum Constitutional Futures. Colin Murray (Newcastle University) and Etain Tannam (Trinity College Dublin)
12:15 - 13:15
LUNCH
13:15 - 14:45
Futures
Union and Unionisms. Michael Keating (University of Aberdeen), Paul Gillespie (University College Dublin) and John Denham (University of Southampton)
Independence and Unity: Constitutional Futures on These Islands. Coree Brown Swan (Queen's University Belfast) and John Doyle (Dublin City University)
The spatial framing of relations across the Irish Sea: Cooperation and Sovereignty. Giada Lagana (Cardiff University), Greg Davies (University of Liverpool) and Dan Wincott (Cardiff University)
14:45 - 15:15
BREAK
15:15 - 16:45
Identities
A tale of two islands: exploring national identity processes in Scotland and Ireland. Jennifer Todd (University College Dublin) and David McCrone (University of Edinburgh)
Civic Politics and Constitutional Change in Ireland. Cera Murtagh (Villanova University) and Mary C. Murphy (University College Cork)
Identities, Institutions and Intersectionality: Comparing Northern Ireland and Scotland. Clare Rice (University of Liverpool) and Meryl Kenny (University of Edinburgh)
16:45 - 17:00
Concluding Remarks
John Coakley (University College Dublin and Queen's University Belfast)