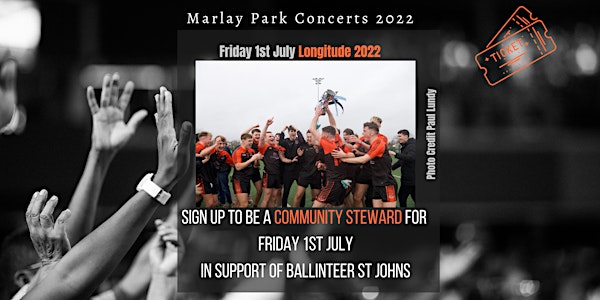 BSJ Stewarding - Marlay Park area - Longitude Day 1 - Friday
Stewarding around Marlay Park for Ballinteer St Johns GAA Club
When and where
Location
Marlay Park Grange Road Dublin Ireland
About this event
As you are all aware the concerts in Marlay Park provide the club with a very valuable source of funding each year.
In return for providing stewards for the events BSJ receive a substantial donation from the concert promoters and individual volunteers receive a free ticket for a concert of their choice. You will get one free ticket for a concert of your choice for each full day (twelve hour) shift, or for two half-day (six hour shifts) or for three short (four hour) shifts.
With the concerts fast approaching we are looking to fill as many volunteering slots as possible as soon as we can.
There are six concerts in total this year – Monday 27th June Green Day, Fall Out Boy and Weezer, Tuesday 28th June Guns N'Roses and Wed 29th June Red Hot Chili Peppers and Longitude will be held over the weekend of 1st, 2nd and 3rd of July.
In order to provide the high number of stewards (there is a requirement for 120 volunteers per day) we need everyone to do their bit. We have seen in previous years that there are some teams within the club that do not engage as well as others so we are now targeting every team in the club directly with the view to getting at least half of the members of the panel (or a family member in the event of someone being under 18) to volunteer for at least one slot. In order for us to be able to retain the opportunity to provide the stewards the Club Executive has requested that all teams get behind it this year.
We know some people work weekends and may have other commitments so we have modified the options for volunteering which worked well in the past.
People can now volunteer for 4 hour, 6 hour, 8 hour and 12 hour slots. Any combination of these adding to 12 hours over the 6 days will give the person an entitlement to a ticket for the concert of their choice.
BSJ Concerts Committee.