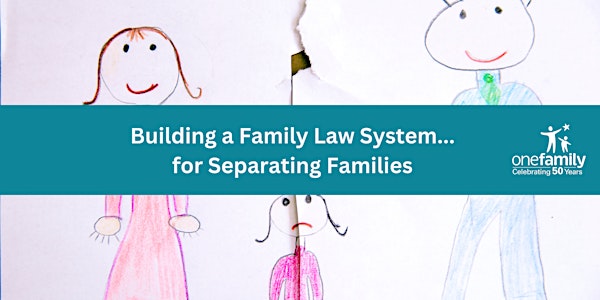 Building a Family Law System...for Separating Families
Webinar looking at Building a Family Law System for Separating Families
About this event
This is the third in One Family's series of webinars looking at Building a Family Law System for Court Users. This event focuses on the needs of separating families and will feature a panel of national and international experts to examine the recently published Department of Justice's Family Justice Strategy and the upcoming Family Court Bill.
Panel confirmed to date:
Andrew Munro - Assistant Secretary, Department of Justice will present the Department's Family Justice Strategy and the Family Courts Bill.
Diana Lowe KC - Reforming the Family Justice System (RFJS) initiative in Alberta, Canada will present on how neuroscience should be used in designing family law processes for separating families.
Áine Tubridy - Project Specialist, Centre for Effective Services will present on One Family's Separating Well for Children Service which supports high conflict and families experiencing domestic abuse post-separation.
Dr. Simone McCaughren - Assistant Professor, Social Work, Trinity College Dublin will present research commissioned by One Family on the evidence about what works for contact/access time for infants and young children in separated families.
Karen Kiernan - CEO of One Family will respond to the Family Justice Strategy and the upcoming challenges for separating families as court users.
Donagh McGowan – Family Law Solicitor and Mediator, member of the Family & Child Law Committee of the Law Society and a Board member of One Family, will chair the event.