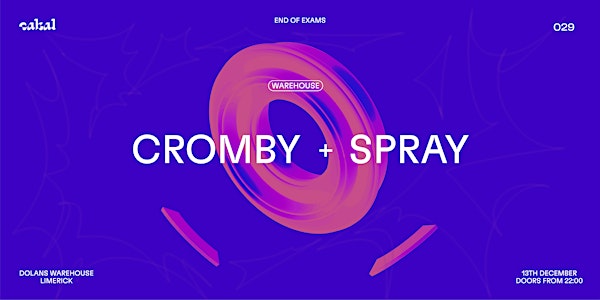 Cabal 029 w/ Cromby & Spray [Brame & Hamo]
One last party of the year in Dolans where we're joined by two Irish heavyweights Cromby and Spray [Brame & Hamo]
When and where
Location
Dolan's Pub and Restaurant 3-4 Dock Road V94 VH4X Limerick Ireland
About this event
One last party of the year in Dolans before we all head our seperate ways for the Christmas break. We're joined by two Irish heavyweights in Cromby and Spray [Brame & Hamo], providing the perfect soundtrack for a post exam blowout!
- Cromby -
Cromby's career is on a steep upward trajectory; the Irish DJ and producer who calls Berlin home, has played at major clubs and festivals all over the world including esteemed venues like Robert Johnson, The Warehouse Project, fabric and Boiler Room. Becoming a regular at Panorama Bar, he's been tasked with handling the infamous closing set on numerous occasions, twice keeping the club open past midday on Monday, a testament to his selector skills and the depth of his record collection.
Cutting his teeth holding down a six-year residency at the legendary Shine in Belfast, Cromby's first record came out in 2012 on New York's The Love Revolution. Following this came two releases on Berlin's Tenderpark and a relocation to Berlin via London. He enjoyed pivotal years in 2018 and 2019, releasing on three ground-breaking labels; Sulta Selects Silver Service, Feel My Bicep and Unknown To The Unknown.
Despite the collective challenges faced, Cromby has continued to ascend in recen times. During the summer of 2020 he launched his own imprint Potency, aimed at exploring different realms of house, techno and acid. Combining old school rhythms with new school flavours, the debut release was led by 'Shake It', which despite the lack of dancefloors, became a fan favourite throughout the year. Additionally, he was tapped by Hör to become a resident and continues to play quarterly sets for the beloved streaming crew from Neuköln's most famous bathroom. When a nomination came for Breakthrough Artist of the Year in DJ Mag's Best of British Awards at the end of '20, it came as little surprise to those in the know.
The last 18 months have seen Cromby begin a monthly radio show with Berlin's community initiative Refuge Worldwide, alongside debuting on one of techno's longstanding tastemaker labels, Rekids. Another notable highlight has been 'Qué Sientes' featuring vocalist Tee Amara, his maiden release for Erol Alkan's iconic Phantasy Sound imprint. The EP stands as a crucial step in the Irish artist's development and was lauded throughout the industry. A critically acclaimed follow up 'Loving' landed in late January 2022, picking up plaudits including DJ Mag's Staff Picks tune of the month and a spot in RA's best releases in February round-up.
The long-awaited Potency 002 dropped finally in late February 2022, presenting a trio of tracks – 'Obsessed', 'Excavator' and 'Body Rush', which reinforced his broad all-night appeal: "I wanted an EP that you can reach for in every dancefloor situation and imagined what it would be like in certain moments - the euphoric hands in the air one, the after-hours roller, and the straight up acid cut."
With a debut on Craigie Knowes 'Freaks on Speed' set for spring and plenty more to follow, Cromby continues to fortify his position at one of the most exciting artists in his field.
- Spray [Brame & Hamo] -
The new solo project from Brame (Brame & Hamo) initially sprouted as a reissue label project for pyro + freaky prog, the innate desire for the sound resulted in lockdown tracks and mixes, and the natural step of becoming a producer moniker/DJ. Rooted from Ireland, and now based in the 'Hollywood for DJs' that is Berlin, Spray has quickly made noise for seminal crews such as Radiant Love, Soulseekers Allowance and HÖR. 
Taste the satiating sound on the debut EP for Craigie Knowes, breaking the formulaic tendency of trance to add essential freakiness, breaks, and wigged out prog; quite the potent brew.
The live sound is a blend also, as on the decks Spray has one hand dusty from digging into the past, whilst the other gleams through indulging in the present. Essential for all heads-down prog movers seeking twisted momentum and glistening rhythms.
---
Tickets go on general sale Tuesday [06.12.22] at 6.30PM. Early Access tickets will be available to subscribers of our mailing list on Monday [05.12.22]. Subscribe here: https://www.cabal.ie/contact-v3 & keep an eye your emails!
*We're giving away 4 Tickets for 029, all you have to do is is head over to our Instagram (@cabal.ie) for details.
D O N O T S L E E P O N T H I S