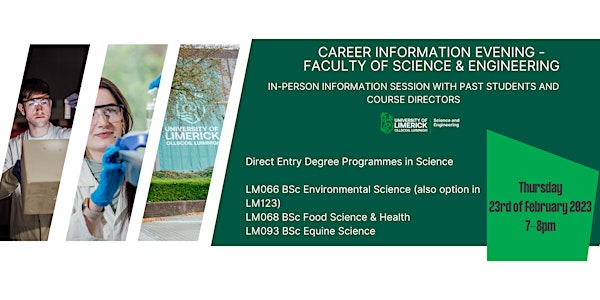 Career Information Evening: Science (Direct Entry)
Second-level pupils, parents and teachers are invited to a talk from recent UL grads about the programmes they studied and careers to date.
By Faculty of Science & Engineering, UL
Date and time
Thu, 23 Feb 2023 19:00 - 20:00 GMT
Location
Faculty of Science & Engineering Office Castletroy Limerick Ireland
About this event
Recent graduates of our programmes describe their time at UL, their cooperative education experience, and the projects they completed as part of their studies. They will also describe the type of work they engage in and how the skills and knowledge gained in their degree programme has benefited them in their careers.
A Q&A session will follow the talks and there will be an opportunity to chat to course directors and staff on a one-to-one basis.
Graduates from the following academic programmes will speak at the event:
LM066 BSc Environmental Science (Direct Entry) - Course Information: https://www.ul.ie/courses/bachelor-science-environmental-science
LM068 BSc Food Science & Health (Direct Entry) - Course Information: https://www.ul.ie/courses/bachelor-science-food-science-and-health
LM093 BSc Equine Science (Direct Entry) - Course Information: https://www.ul.ie/courses/bachelor-science-equine-science
For more information, please email EventsSE@ul.ie