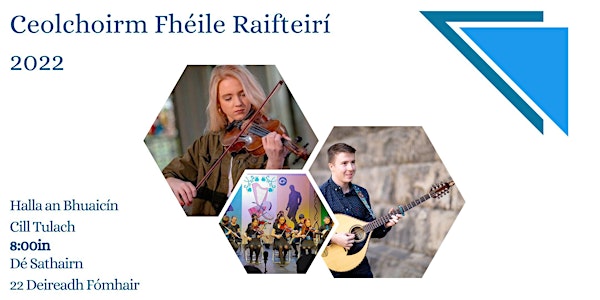 Ceolchoirm Fhéile Raifteirí 2022
Ceolchoirm le Cathal Ó Curráin agus Megan Nic Fhionnghaile le tacaíocht ó Bhanna Céilí Loch Lurgan
When and where
Location
Halla an Bhuaicín An Buaicín Theas H65 FV38 Kiltullagh Ireland
Refund Policy
Contact the organiser to request a refund.
About this event
Is i Halla an Bhuaicín, Cill Tulach a bheas Ceolchoirm Fhéile Raifteirí 2022 ar siúl i mbliana agus ba mhór le Gaeilge Locha Riach thú a bheith i láthair!
I mbliana beidh an oíche ag tosú amach le ceol ón mBanna Céilí Loch Lurgan. Is as Cois Fharraige i gConamara an chuid is mó den Bhanna Céilí seo agus tá 14 ball sa ngrúpa (12-16 bliain d'aois), ó 8 gclann éagsúil ó na Forbacha siar go dtí Cor na Rón. Ainmníodh an grúpa as banna Gaillimheach den ainm céanna siar sna caogaidí, a raibh baill ann ó oirthear agus ó iarthar an chontae. Traidisiún a mhaireann fós sa lá atá inniu ann agus fidléir as Creachmhaoil i measc an bhanna!
Tar éis an bhanna leanfaidh an oíche ar aghaidh le léamh filíochta gairide ó bhuaiteoir an chomórtais filíochta Fhéile Raifteirí 2022 agus ó Rita Kelly.
Ina dhiadh sin, beidh Megan Nic Fhionnghaile agus Cathal Ó Curráin as Gaeltacht Ghaoth Dobhair ag leanúint ar aghaidh leis an gceol. Tá an bheirt acu fréamhaithe i dtraidisiún fidléireachta agus amhránaíochta Thír Chonaill, tréithe a fuair siad óna gclann, sin iad Clann Joe Jack. Bhain siad céim amach sa gceol in Ollscoil Luimnigh agus idir an bheirt acu tá an domhan siúlta acu le bannaí ar nós, An Crann Óg, The High Seas, The Friel Sisters chomh maith le Lord of the Dance. Le chéile déanann siad ceiliúradh ar na hamhráin agus na poirt a fuair siad ón chliabhán. Déanaigí cinnte gan an cheolchoirm seo a chailleadh!
(Tá páirceáil teoranta ar fáil ag an ionad agus bheadh muid an-bhuíoch dá mbeifeá in ann carr-roinnt a dhéanamh ar an oíche).
Féile Raifteirí 2022's concert will take place in Bookeen Hall, Kiltulagh and Gaeilge Locha Riach would be delighted for you to join us!
This year the night will start out with the Loch Lurgan Céilí Band. Most of the bands 14 members, who are aged between12 and 16, hail from 8 different families between Na Forbacha and Cor na Rón in Cois Fharraige, Connemara. The band is named after another 1950s Galway Band who had members from both the east and west of the county. A tradition which still exists today as one of the band's fiddler's is from Craughwell!
The night continues after the band with a short poetry reading from the winner the Féile Raifteirí 2022 poetry competition and from Rita Kelly.
Megan Nic Fhionnghaile and Cathal Ó Curráin from the Gaoth Dobhair Gaeltacht in Donegal continue the night with more music. Both musicians are rooted in the Donegal Fiddle and singing tradition, a trait they acquired from their family, Clann Joe Jack. They have both received their bachelor's degrees in music from the University of Limerick and have the world travelled between them with bands such as An Crann Óg, The High Seas, The Friel Sisters, as well as Lord of the Dance. Together they celebrate the songs and tunes which they have from the cradle. Be sure not to miss this concert!
(There is limited parking at the hall and we would be very grateful if you could car pool on the night)