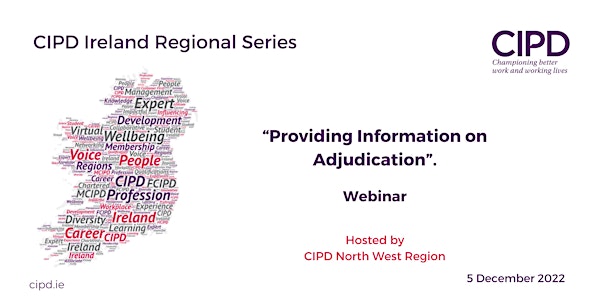 CIPD Ireland Regional Series: Providing Information on Adjudication
CIPD Ireland Regional Series: "Providing Information on Adjudication" hosted by the CIPD Ireland North West Region
About this event
Join us on Monday, 5 December for the next in the CIPD Ireland Regional series webinars
This short lunchtime webinar will explore the WRC Adjudication Service and its role.
We will explain the complaint process and how to access the service.
Look at the differences between Employment Rights/Equality cases as compared to Industrial Relations cases.
We will also cover the practicalities of an Adjudication Hearing, how to prepare and what to expect on the day of the hearing
And finally, what happens after the hearing – Decisions, Recommendations and the Appeals process.The Webinar will be presented by Kevin Baneham, Adjudication Officer with the WRC
Please note
Photography and video production may take place at the event and these images may be used on future promotional materials for CIPD. Please note that by attending the event, you are giving your consent for your image to be used on any CIPD promotional materials.
For your security and peace of mind, CIPD and its subsidiaries will not supply your details to any organisation for marketing purposes. By submitting this request you confirm that you agree to the use of your information as set out in CIPD's privacy policy. We reserve the right to include your name in a list of delegates at the event.
Non-members may click here to sign up to receive our e-newsletters which will keep you up-to-date with HR news in Ireland as well as CIPD Ireland events and survey research.
Cancellation Policy:
If you are unable to attend, please cancel your booking so that it can be released and made available to members on the waitlist.