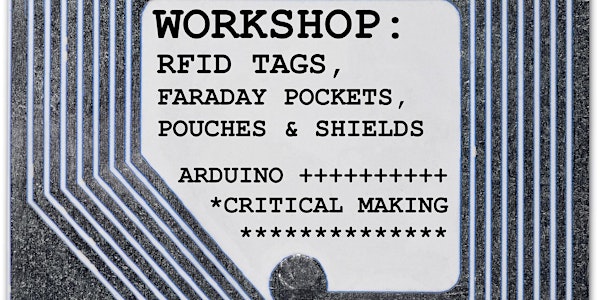 Cliona Harmey - RFID Tags, Faraday Pouches, Pockets & Shields workshop
When and where
Location
Dublin City Gallery, The Hugh Lane Parnell Square North D01 F2X9 Dub Dublin 1 Ireland
Refund Policy
Refunds up to 7 days before event
Description
Cliona Harmey - 'Faraday Pouches, Pockets & Shields' workshop

25 January, 10.30am-3.30pm [ four hour workshop and one hour break].
Part of the Kennedy Browne 'Digital Self Defence' Series of talks, workshops and events
During this workshop for adults with Cliona Harmey (assisted by Megan Scott), participants will learn about RFID (radio frequency identification).RFID tags are miniature devices which store and transmit data. RFID, a technology which was first used to identify planes in WWII is used in a wide variety of everyday applications from pet identification to Leap/ATM cards, event armbands and retail security. RFID (Radio frequency identification) technologies currently control many everyday transactions in our life from finance to retail and transit. During this workshop we will use + make a simple RFID reader/writer device using open-source DIY hardware(Arduino) and we will use this device to write our own data to tags/cards. We will also make a Faraday pouch/pocket/wearable, a foil lined object which can be used to block radio waves & to protect your data. This pouch will be augmented with your own modified RFID tag Arduino is a DIY open-source hardware designed to allow anybody to experiment with hardware1. This workshop is inspired by a "Critical Making" approach to technology. "Critical Making" is a term coined by Faculty of
Information lecturer, Matt Ratto to describe "a kind of pedagogical practice that uses material engagements with technologies to open up and extend critical social reflection"2. Participants of the workshop will explore RFID technology through hands-on experimentation and observation. The workshop is aimed at beginners and enthusiasts. A basic level of computer literacy is all that is required. Ideally participants will have their own laptop but participant sharing is also possible.
1
"Arduino is an open-source electronics platform based on easy-to-use hardware and software. It's intended for anyone making interactive projects" from https://www.arduino.cc/
2
"What is critical Making?" by Garnet Hertz https://current.ecuad.ca/what-iscritical-making
This workshop is taking place within the gallery space of the Kennedy Browne exhbition 'The Redaction Trilogy'. Kennedy Browne's exhibition 'The Redaction Trilogy' is on at The Hugh Lane between 24 October 2019 - 26 January 2020, and addresses topical issues in relation to technology and social media.