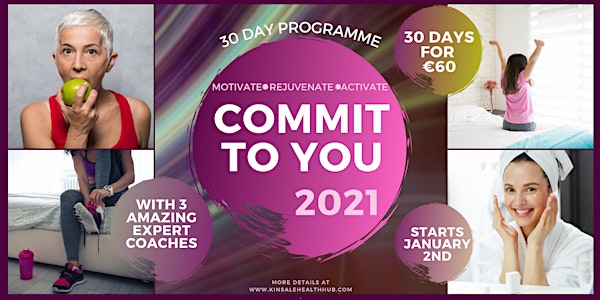 Try something different this New Year. Motivate, rejuvenate and activate your 2021 with our Commit to You 30 day programme
About this event
Commit to You is a innovative 30 day programme designed with whole body strength, emotional and mental health support and holistic wellbeing combined.
Commit to 30 days of workouts, nutrition and holistic self-care goals and tasks. Be supported by 3 experienced expert coaches, working in collaboration, for your ultimate success.
The programme will run online with videos, tips a calendar of events and a dedicated Facebook group for accountability, live support, feedback and updates. After you pay for the programme you can choose when you want the programme to start. Simply log in to the link you will be sent when you are ready to begin.
Either buy this programme for yourself or for those who you think deserve to put themselves first in this new year full of opportunity and success.
For more information email info@kinsalehealthhub.com