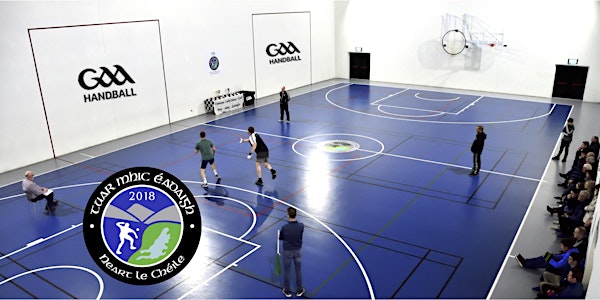 Comórtas Aon-Bhalla Thuar Mhic Éadaigh / Tourmakeady One-Wall Spring Tourna...
Event Information
Location
Ionad Spóirt
Tuar Mhic Éadaigh
Co. Mhaigh Eo
F12 F6E8 Tourmakeady
Ireland
Refund policy
Refunds up to 7 days before event
Description
The Tuar Mhic Éadaigh One-Wall Spring Tournament 2020 is open to players from all 32 counties of Ireland and further afield.
Games will be played using the following rules:
Timed games of 15 minutes duration or first to 31 points. No time-outs are permitted but a player may request a brief stoppage if necessary to adjust his/her playing gear.
The referee may add extra time at his/her discretion to allow for stoppages or delays in play.
You can score on your own serve only.
Grades of competition are Mens A/B (combined), Mens C, Mens Masters, Ladies A/B (combined), Ladies C, Ladies Over-35 (singles), Ladies Over-35 doubles.
In Ladies Over-35, players may play in singles and/or doubles i.e. one entry fee will cover both competitions if a player wishes to participate in both.
Grades may be combined if there is an insufficient number of entries.
There are no juvenile grades in this tournament but boys aged 17 or above on January 1, 2020 or girls aged 16 or above on January 1, 2020 may play in adult grades.
All entrants are guaranteed at least two 15 minute games. Depending on the number of entries received, we hope to use a format that would give each player at least three games on the day.
Respect for officials and opponents is of utmost importance at all times. Disrespectful conduct will not be accepted and will result in forfeiture of the game.
Cuirtear fáilte roimh chomhfhreagras i nGaeilge. We are a Gaeltacht club and we encourage all players to use their "cúpla focal" as best they can. Posters and handouts will be available in the sports hall to help participants learn some simple handball phrases in Irish.
Monday, March 30 is the deadline for applications. Is é an Luan, 30ú Márta 2020 an spriocdháta le haghaidh iarratas.
If a player is aged less than 18 years of age, an adult must approve the application and accept the terms and conditions on his/her behalf. Má tá imreoir faoi bhun 18 bliana d'aois, beidh ar dhuine fásta an iontráil a fhaomhadh agus glacadh leis na téarmaí agus coinníollacha.
Entrance fee €20 / Táille iontrála €20
Pay on-line with EventBrite / Íoc ar-líne le EventBrite.
Alternatively, make cheques payable to "Cumann Liathróid Láimhe Thuar Mhic Éadaigh". Nó déan seiceanna iníoctha le "Cumann Liathróid Láimhe Thuar Mhic Éadaigh".
Send cheques to: Tim Foley, Treasurer Tuar Mhic Éadaigh HC, Derrymore, Partry, Co. Mayo.
Seol seiceanna chuig: Tadhg Ó Foghlú, Cisteoir CLL Thuar Mhic Éadaigh, Doire Mhór, Partraí, Co. Mhaigh Eo.
Additional information / Tuilleadh eolais:
Contact Michael Lang, Secretary of Tuar Mhic Éadaigh HC, Co. Mayo. Téigh i dteagmháil le Mícheál Ó Flainn, Rúnaí CLL Thuar Mhic Éadaigh, Tuar Mhic Éadaigh, Co. Mhaigh Eo.
Phone / Fón: 086-0525653
Email / r-phost: secretary.tuarmhiceadaigh.mayo@gaa.ie
DECLARATION AND WAIVER / DEARBHÚ AGUS TARSCAOILEADH:
"I declare that I have consulted with my club secretary and verify that I am a registered member of my Club, that my name is included in the list of Club registrations forwarded to the GAA Handball Association, and my club has paid its contribution to the Player Injury Scheme for the year ended 31st December, 2020.
In consideration of the acceptance of this entry, I, the undersigned participant, intending to be legally bound, do hereby, for myself, my heirs, successors, assigns, executors and administrators, waive and release any and all rights and/or claims and damages against CLG Thuar Mhic Éadaigh, Cumann Liathróid Láimhe Thuar Mhic Éadaigh and their officers, trustees, representatives, employees and agents in connection with my entry in the above tournament and I assume all risks by my participation.
I also consent to the use of images that may be taken by club personnel or contracted third parties throughout the duration of the competition, subject to compliance with GAA policies on social media and child protection."
Date and time
Location
Ionad Spóirt
Tuar Mhic Éadaigh
Co. Mhaigh Eo
F12 F6E8 Tourmakeady
Ireland
Refund policy
Refunds up to 7 days before event