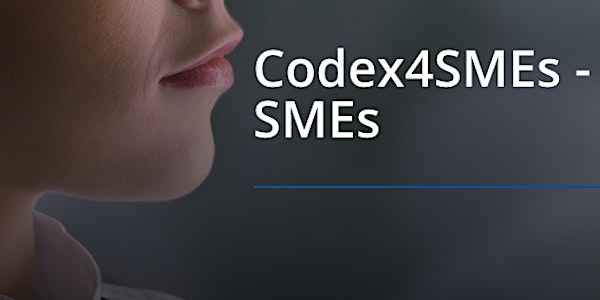 Companion Diagnostics Codex4SMEs Roadshow
When and where
Location
Hotel Meyrick Eyre Square Galway Ireland
Description

Are you a small and medium-sized enterprise (SME) working in the field of companion diagnostics? If you are, this is what Codex4SMEs offers you:
• Sample access service
• Biomarker validation service
• Knowledge transfer regarding biomarkers/ biobanking
• Networks/ecosystems in seven countries
• Transnational roadshows with venture capitalists and large pharma companies
• Expert advice regarding business model, business growth and upscaling
Support services will be tailored according to the SME's current stage of development.
If you would like to find out more, we have a roadshow event on 18th September 2018 in Galway where we will gather together SMEs, larger pharma companies, biobanks, experts in regulation, investors, support agencies, universities etc. Our partners from 7 European countries will also be present. We hope to provide more information to Irish SMEs about the Codex4SMEs project and it will also be an opportunity for networking and finding opportunities for collaboration.
Programme
10.45: Registration / Tea / Coffee
11.00: Welcome and introductions
11:10: Introduction and overview of Interreg Codex4SMEs project and the supports for SMEs - Dr Margot Jehle, Lead partner, Codex4SMEs
11.30: The Medical Technology Sector in Ireland: John Cunningham, Cúram (Centre for Research in Medical Devices)
11.50: Barriers to developing a Cancer Diagnostic in the Irish setting- Case Study- Dr Elaine Kenny, CEO, Elda Biotech.
12.20: How the new regulations will affect Companion Diagnostics: Diarmuid Cahalane, Metabolomic Diagnostics
12.50: Access to finance for Companion Diagnostics SMEs: Ultan Faherty/Joe Greaney, Halo Business Angel Network.
13.10: Lunch and Networking
14.10: Biobank access for Irish SMEs through Codex4SMEs
BBG: Biobank, Graz: FranziskaVogl
IBBL: Integrated Biobank of Luxembourg: Dr. Christelle Bahlawane / Dr. Monica Marchese
15.00: "Molecular pathology and biomarker assessment, a vital part of modern cancer therapy". Dr Brendan Doyle, Consultant Pathologist in Beaumont Hospital.
15.30: "Overview of Randox Laboratories and latest developments in Companion Diagnostics" Dr Kenneth Martin, Randox Laboratories Ltd.
16.00: Questions and discussion.
16.30: Finish
Funding details:
EU FUNDING: €1.9m
TOTAL BUDGET: €3.16m
TIMELINE: 2017-2020