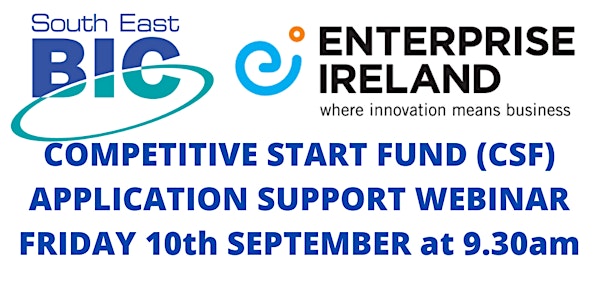 Competitive Start Fund Application Support Webinar - 10th September
This workshop is for Startup businesses who are interested in/eligible to apply for the Enterprise Ireland CSF, not consultants or advisors.
About this event
The Competitive Start Fund offers startup companies €50,000 of Enterprise Ireland investment, should you be successful. 
This Application Support Workshop will equip CSF applicants with a deep understanding of the CSF process and Enterprise Ireland's requirements to increase your chances of success in the application process.
If you are applying or considering applying to the CSF calls that opens on the 7th September and close on 28th September at 3pm, then this workshop is a must-attend event.
There are two calls this time:
CSF 68 - Women Entrepreneurship
CSF 69 - All Sectors
The fund is open to early stage companies in the Manufacturing & Internationally Traded Services sectors, including the following subsectors Agtech, Cleantech, Consumer Products, e-Health, Enterprise Software, Fintech, Food, Games, Industrial Products, Lifesciences, Manufacturing, Medical Technologies & Devices, Mobile, Renewables, SAAS / Digital Technologies, Engineering / Electronics, Deeptech, Internet of Things (IOT), Artificial Reality (AR) / Virtual Reality (VR), Data Intelligence, Quantum Computing, Green Technologies / *Climate Change Solutions
*solutions to address challenges and opportunities regarding Climate Action with an emphasis on decarbonisation (i.e. supporting transition to low carbon) including but not exclusive to Renewables, Carbon capture technology, Innovations in buildings and transport applications and Sustainable materials
For the Women Entrepreneurship call, applications are invited from individual women entrepreneurs, entrepreneurial teams and existing early stage women led start-ups. A qualification requirement for this call is that, the applicant / applicant company must have at least 1 woman promoter that has a place on the lead management team and who owns or will own at least 25% of the voting share capital of the company at the point prior to Enterprise Ireland Competitive Start Fund Tranche 1 investment of €25k for 5% of the company if successful in this competition. Details of how this condition will be met must be provided in the application form.
The selected companies will receive a maximum investment of €50,000 for a 10% ordinary equity stake in the start-up company. The investment shall be released in two equal tranches. The Company will be required to secure additional equity investment of €5,000, from promoters or external investees, prior to the release of EI's first tranche.
In the weeks afterwards, we will support participants in their preparation at a one-to-one basis. 
AGENDA 
Introduction
Review of the CSF application form
Workshop of key areas of focus
Review of the video interview requirement
Wrap up & supports available
11.30 Close