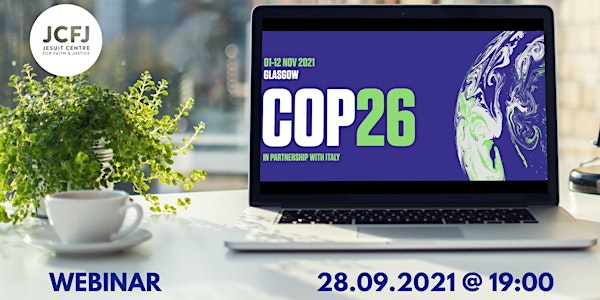 COP-ON Webinar
The Jesuit Centre for Faith and Justice invites you to our 'COP ON' Webinar - A guide to this years climate summit.
By Jesuit Centre for Faith and Justice
When and where
Date and time
Tue, 28 Sep 2021 11:00 - 12:00 PDT
About this event
COP26 is taking place in Glasgow this year from the 31st October - 12th November.
You may be wondering 'What is a COP?, 'What happened in the first 25?', 'Why should I care?' and 'How can I get involved?'
This workshop aims to answers these questions by inviting speakers who knows the ins and outs of national and international climate politics, who have been been to COP and have the t-shirts to prove it.
Speakers include:
Seán McDonagh, Ecologist and Columban Priest. Seán has also authored several books including Climate Change: The Challenge to All of Us; Greening the Christian Millennium; Care for the Earth; and Dying for Water.
and
Jerry Mac Evilly, Head of Policy at Friends of the Earth Ireland. Jerry has over a decade experience in policies and communications in the fields of climate action, energy and sustainable development at national, EU and UN level.