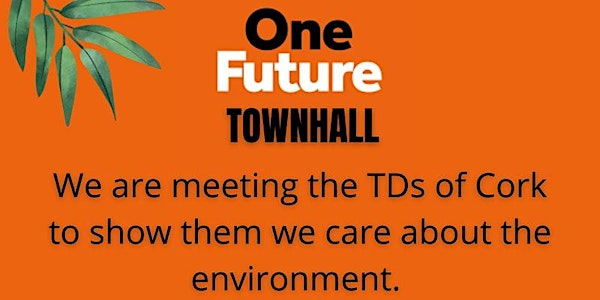 CORK NORTH-WEST meeting ONLINE with CNW TDs - Faster, Fairer Climate Action
Help create a planet we can all thrive on. Join Our Online Meeting with our local Cork North-West TDs. Your presence & voice really matter!
About this event
Come along to the first Online Meeting, organised by the grassroots organisation ONE FUTURE to meet local Cork North-West TDs to talk about faster and fairer climate action.
This is an opportunity to hear from and talk to our TDs on the topic of "Climate Budget and Climate Action Plan more talk or real action?"
– ask a question, if you want
-no expert knowledge needed
– or just be there to show our TDs that you care!
Your voice and support matter to show political representatives you care
CLIMATE ACTION PLAN AND CARBON BUDGET
Ireland's first Climate Budget has just been announced and over the coming 4 months it will go through the Dail. This budget is set to cover the period 2021 to 2025 and refers to Ireland's share of how much CO2 can be released to keep global warming to a maximum of 1.5 0C.
The Climate Action Plan and budget will lead Ireland to becoming a climate neutral economy and resilient society by 2050. This means that the amount of greenhouse gases released into the atmosphere must be dramatically reduced.
This must be achieved through a just transition, meaning all voices will be heard in a fair and equal manner, and that new opportunities will mean no one is left behind.
BUT WHAT DOES THIS REALLY MEAN?
How can this be achieved in a way that everyone in society can thrive in a healthy environment? What actions, resources and changes are actively being put in place?
What more can be done in Cork City and County? …and NOW?
Every little thing we do for the planet adds up to something big and brilliant! Let's make Cork a frontrunner!
This is part of a series of Town Hall Meetings in Cork city and county in November
Cork North and South Central - combined: Mon 8th Nov 7.30pm-9pm
Cork East: Monday 15th November 7.30-9pm
Cork South West: 15th November 7.30-9pm
Cork North West: Wed, 24th November 7pm-8pm
Do not delay! Help create a brighter, cleaner tomorrow for everyone.
ONE FUTURE CORK: The Town Hall meetings are organised by One Future Cork. We are a local, grass roots campaign, who have come together on faster, fairer climate action. The One Future Platform is supported by the Stop Climate Chaos Coalition. www.onefuture.ie
Do not delay! Help create a brighter, cleaner tomorrow for everyone.