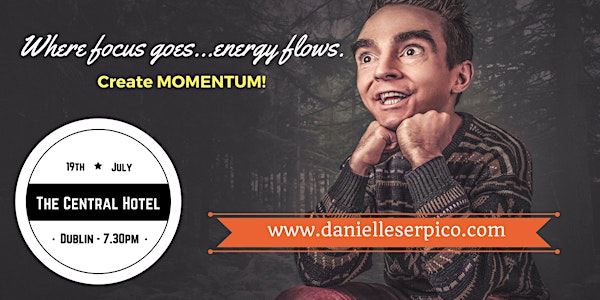 Create Momentum! - Where focus goes..Energy flows!
When and where
Location
The Central Hotel 1-5 Exchequer Street D02 E044 Dublin Ireland
Description
WHERE FOCUS GOES .. ENERGY FLOWS!
Often our goals & aspirations start to fade and fizzle out.... is this the case for you? ....
If so, Let's re-ignite that spark!
The best way to reach your goals is to set them, and then immediately begin to create momentum!
Then, make your goals even bigger!
Mark Twain said.....
"If it's your job to eat a frog, it's best to do it first thing in the morning. And if it's your job to eat two frogs, it's best to eat the biggest one first."
Experience shows that successful people follow rituals, habits and routines that benefit all areas of their lives.
You will explore these various ideas and discover what you do to sabotage your goals and what causes you to procrastinate.
You will find ways to increase your Momentum, Drive and Motivation so that you have more energy, passion and fire in your belly to go after your dreams and achieve your goals!
There will be interactive, thought provoking exercises in a friendly, informal setting with other like minded people,
and time to network.
WHAT YOU WILL DISCOVER -
* Your personal 'strategy' for self sabotage & the one you use for motivation.
* How to use this strategy to your best advantage.
* Action implementing strategies on How to keep the momentum going.
* You will also get an introduction to some very valuable Neuro-Liguistic (NLP) principals.
Remember....
An object in motion will stay in motion, until it meets a resisting force.
So, let's get going!
Book your place now.
Your Speaker and Trainer is Danielle Serpico
Master Practitioner and NLP Trainer & Mind Coach
Author & Radio Host
Entrepeneur & Business Start Up Consultant