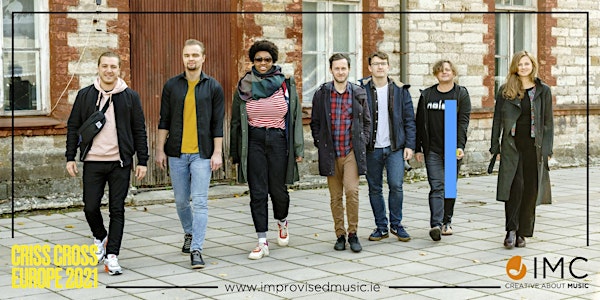 Criss Cross Dublin
POSTPONED - CRISS CROSS EUROPE hits Dublin with an unforgettable night of improvised jazz music at Freemasons' Hall.
When and where
Location
Freemasons' Hall 17 Molesworth Street DUBLIN 2 Dublin Ireland
Refund Policy
Refunds up to 7 days before event
About this event
We are sorry to announce that Criss Cross Europe due to take place this Thursday 9th December at Freemasons' Hall in Dublin, is postponed due to COVID-related travel and event restrictions in Europe. Due to the collaborative European nature of the event, we will be unable to confirm the rescheduled date until Spring 2022.
We will be offering you a full refund for your ticket purchases.
For ticket holders
As a gesture of goodwill we're placing you on a special guest list to the Afrobeat series at The Sugar Club, Dublin - let us know if you would like to attend tonight, 13th or 27th December.

We thank you for your understanding.
Improvised Music Company (IMC) hosts the Irish leg of pan-European collaboration Criss Cross Europe on Thursday, 9th December 2021. Led by renowned American drummer Jim Black, a band of Europe's finest burgeoning jazz stars (including acclaimed Irish guitarist, Chris Guilfoyle), will create a unique night of improvised music. The evening juxtaposes ancient and modern, with fresh contemporary European jazz against the historic backdrop of the Freemasons' Hall.
Date: Thursday, December 9th - POSTPONED
Venue: Freemasons' Hall, 16 Molesworth Street, Dublin 2
Doors: 8:00pm
Tickets: €15 pre-booking & €18 on the door
Improvised Music Company is delighted to be a part of Criss Cross Europe, a pan-European musical laboratory in collaboration with 6 European countries. This partnership brings together 6 leading jazz musicians from these 6 European countries to collaborate as a sort of new super-group. Following a residency period in Tallinn in autumn 2021 - collectively shaped and mentored by drummer Jim Black - these musicians are currently on a European tour with a one-night-only Dublin outing on December 9th.
This year's Criss Cross mentor - Berlin-based American drummer Jim Black - is one of the most influential voices in contemporary jazz. The Wire referred to Black as a ''complete musician and wonderfully fertile composer". Black is internationally acknowledged for his virtuosic but highly personal approach to contemporary jazz. He stands at the forefront of a new generation of jazz innovators through projects like Human Feel, Tim Berne's Bloodcount, Ellery Eskelin's trio, Pachora, and Dave Douglas' Tiny Bell Trio. "Wickedly inventive… A revelation." - CMJ
Estonian saxophone, Belgian trombone, Irish guitar, Scottish bass, Dutch vocals and Luxembourgish drums fuse with Black's signature flair to create an unmissable night of dynamic new music.
The star young musicians chosen for this year's cross-cultural experiment are:
Chris Guilfoyle (guitar) IRELAND
Nabou Claerhout (trombone) BRUXELLES
Sanne Rambags (vocals) THE NETHERLANDS
David Bowden (bass) SCOTLAND
Aleksander Paal (alto sax) ESTONIA
Michel Meis (drums) LUXEMBOURG