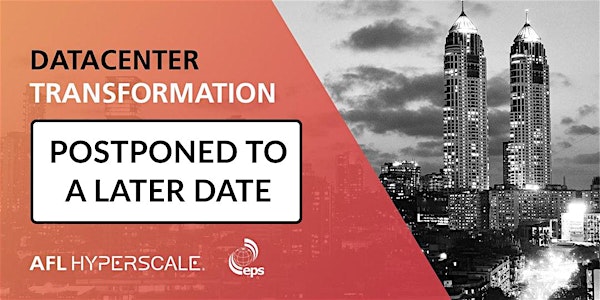 Datacenter Transformation Mumbai
Location
Courtyard by Marriott Mumbai International Airport Cts 215, Andheri - Kurla Rd, opposite Carnival Cinemas Andheri East Mumbai, Maharashtra 400059 India
Description
In response to the situation across the globe regarding the COVID-19 coronavirus, EPS Global and AFL Hyperscale have decided as a safety precaution, to postpone Datacenter Transformation Mumbai, which was scheduled to take place on March 20th.

We plan to reschedule this event in the near future, and once this date has been set we will share this information with you.
Building upon the success of Datacenter Transformation across Europe, we are delighted to announce the inaugural edition of the conference in Mumbai!
AFL Hyperscale, a leading cabling and connectivity solutions provider focused on the ever-evolving needs of data centers and EPS Global, a leading franchised distributor for specialized IT components and OCP member, are bringing together industry pioneers for a day of knowledge sharing and networking at the Courtyard by Marriott Mumbai International Airport.
This is a must-attend event for IT Professionals, Engineers and Business Leaders working with data centers, carriers, cloud, financial services and high-performance computing. The conference aims to educate, empower, and inspire those who are looking for cutting-edge, cost-efficient solutions to grow their business.
What you will learn:
The key drivers affecting the physical data center infrastructure
The growing impact of Open Compute and Software-Defined Networking
Deployment of AI and machine learning in data centers and how it enables greater performance and stability.
This is a unique opportunity to network with prominent technical leaders and pioneers who are driving the data center industry forward.
The event will be held on Friday March 20th in the Courtyard by Marriott International Airport Hotel and includes breakfast, lunch and high tea.
Here's what one attendee said about Datacenter Transformation: "The event was totally inspiring above any expectation. I really enjoyed it and I think the quality of the speakers was awesome! Very helpful indeed."
This video summarising our Datacenter Transformation Frankfurt event should give you a taste of what to expect!
**We have a limited number of free Early Bird tickets available - register now!**
About the organiser
EPS Global is a leading franchised distributor for specialized IT components. As an OCP Community Member, EPS brings Software-Defined Networking (SDN) hardware and software solutions to the market from its 28 global locations. www.epsglobal.com
AFL Hyperscale is the first cabling and connectivity solution provider focused on the ever-evolving needs of data centers and works collaboratively with our customers to create connectivity solutions tailored to their current needs and to the requirements of future networks. www.aflhyperscale.com