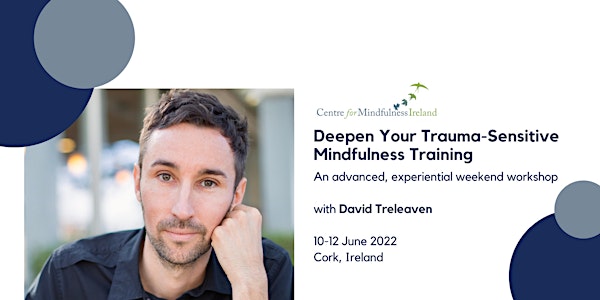 Deepen Your Trauma-Sensitive Mindfulness Training
Location
Scala Retreat and Conference Centre
Castle Road
Blackrock
Cork
Ireland
A weekend experiential workshop to deepen your skills in Trauma-Sensitive Mindfulness, with David Treleaven
About this event
Are you a mindfulness teacher, or do you incorporate mindfulness meditation into your work?
Are you looking to deepen your understanding of trauma in relation to mindfulness and meditation?
Do you want to help people navigate the trauma they're facing through your mindfulness teaching and practice?
The Centre for Mindfulness Ireland is thrilled to welcome David Treleaven, author of the acclaimed book Trauma-Sensitive Mindfulness, to Ireland for an in-person event this coming summer.
Combining meditations with lecture, dialogue, and experiential teach-back sessions with other participants, this weekend workshop will prepare you to work with mindfulness and trauma in the years ahead.
You will leave this weekend:
With advanced skills that will help enhance people's resilience, self-compassion, and sense of agency and choice in the face of trauma
Equipped with mindful embodiment practices that enable people to self-generate safety and widen their window of tolerance
More confident in helping people work skilfully with their attention in meditation when it comes to trauma
Able to use mindfulness practices that focus on resilience and healing (and know when they will be most effective)
Informed about cultural adaptations of mindfulness practice through a trauma-sensitive lense
For those already familiar with David's work, this weekend will help you deepen your skills as a mindfulness teacher / practitioner who utilises mindfulness. For those newer to Trauma-Sensitive Mindfulness, David will spend Friday night covering the core principles, to set you up well for the weekend.
This is a unique opportunity to continue skilfully responding to the adversity and trauma so many are facing. David has never offered an advanced in-person training like this, and it is the only one he is running in Ireland. You'll come away with skills that will be useful for decades to come. Come enjoy this opportunity to train directly with one of the foremost teachers in the world on this topic.
Who is it for?
Mindfulness teachers and trainers
Professionals who use mindfulness in their day-to-day work
Those who have previously attended an Introduction to Trauma Sensitive Mindfulness Workshop with David Treleaven
Whether you're a meditation or yoga teacher, religious or classroom teacher, or a mental-health professional who utilises mindfulness, we are confident this workshop will serve you.
"An essential 'upgrade' for anyone who thinks of her or himself as a mindfulness teacher, or is in training to become one."
— JON KABAT-ZINN, Founder, Mindfulness-Based Stress Reduction
Places are limited, so please book soon to avoid disappointment. Contact johncumminscbt@gmail.com with any queries. **Please note this is a non-residential weekend, and accommodation is not included.**
David Treleaven, Ph.D., is a writer, educator, trauma professional, and author of the acclaimed book Trauma-Sensitive Mindfulness: Practices for Safe and Transformative Healing. David focuses on offering mindfulness providers the knowledge and tools they require to meet the needs of those struggling with trauma. Through workshops, keynotes, podcasts, and online education, he is closely engaged with current empirical research to inform best practices. David is currently a visiting scholar at Brown University and has worked with a number of organizations including The Search Inside Yourself Leadership Institute developed at Google, University of Massachusetts Medical School, The Center for Contemplative Mind in Society, the Institute for Mindfulness South Africa, the UC San Diego Center for Mindfulness, and the Mindfulness Training Institute of Australia and New Zealand.