Description
This two-day retreat is organised by the Presentation Sisters. It will be an opportunity to engage in contemplative Practices of meditation, to deepen our awareness of being in harmony with self, each other, God and all creation.
Silent prayer is at the heart of this and Fr Korko will guide us in relaxation techniques, breath awareness and in
using the Jesus prayer as a mantra to lead us into deeper contemplation.
On Monday 26 June at 2pm we are inviting our Sisters, Friends and Co-workers from around the world to join us in a global meditation led by Fr Korko through live streaming.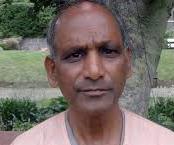 Fr Korko Moses SJ, is a Jesuit priest living in India who founded Dhyanavanam, an Ashram inspired by Christian & Eastern spiritual traditions. He is a spiritual guide, counsellor and teaches contemplative practices of meditation and yoga. He leads retreats in India, Ireland and England. He also works with people with addictions.