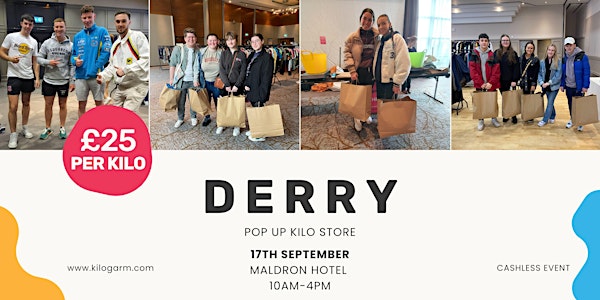 Derry Pop Up Kilo Store 17th September
Welcome to our Derry Pop Up Kilo Store Event. We will be at the Maldron Hotel in Derry with garms for you for only £25 per Kilo!
When and where
Location
Maldron Hotel Derry Butcher St Londonderry Londonderry BT486HL United Kingdom
About this event
Derry! We're Back! Welcome to our pop up kilo store event.
Shop tonnes of vintage and preloved garms and pay by weight for only £25 per Kilo! You can buy as much or as little as you want. No restrictions! and the great thing is you pay exactly what your item weight no rounding up, no sales gimmick. If that shirt you picked up weighs 0.05, you only pay £1
Please Note: This is a cashless event. Card and contactless payments only.
Kilogarm aims to create a community of like minded people who believe there is no planet B and enjoy the thrill of a thrift find in a non-judgemental atmosphere where you can wear what you like while contributing to a more sustainable world.
Our events are perfect for all, including but not limited to online resellers. Join us for an amazing experience and discover a whole new wardrobe, one that doesn't deplete our limited resources further.
What can I get for a Kilo?
It really depends on your taste and the look you are trying to create, here are a few ideas of what you can get for a kilo:
1 Jacket, t-shirt, shorts and shoes.
2 branded track jackets.
4 shirts.
A pair of denim jeans, pattern jacket and converse.
10 summer blouses.
Let your imagination run wild! Pick and mix as you like. It's only £25 per kilo, you never know what you will find. You can expect a great atmosphere filled with buzzing music, happy faces and tons of awesome clothes.