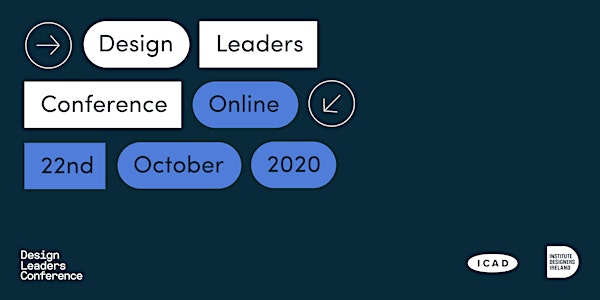 Design Leaders Conference 2020
Design Leaders Conference - a virtual symposium for those leading design to re-charge, share ideas, learn and reimagine the future
Refund Policy
Contact the organiser to request a refund.
About this event
Design Leaders Conference is a virtual symposium for those leading design teams and design studios to re-charge, share ideas, learn and reimagine the future.
On Thursday, 22nd October 2020 join us for Design Leaders Conference 2020
A virtual symposium format this year to reflect on the inflection point we find ourselves at, and the significant opportunity to design a better future.
As we navigate uncertain times, we are catapulted into the future with many trends accelerated, and disruption to industry sectors and society causing challenges, and also the opportunity to reflect, rethink and reimagine a better future. 
We're bringing together thought leaders and subject matter experts to lead business-focused conversations and learning on leading and managing design, the requirement for creativity and innovation, and the power of design to deliver meaning and facilitate change at this time of transformation.   
We'll take a deep dive into the topics that pose the greatest challenges now for design and creative business owners, directors, partners and managers who lead design teams and run successful creative studios.  With illuminating talks from speakers from the US, Canada and Europe on the challenges and opportunities ahead as we work to reimagine a better world and harness the power of design to facilitate and enable the innovation and the changes demanded of us at this time in our personal lives, our businesses and society.  Facilitated panel discussions will allow for interaction and collaboration.  
An unmissable opportunity to share ideas, learn up to date trends and insights, reflect, rethink and reimagine the future.    
*Group Bookings - Contact us directly at info@designskilnet.ie for group bookings*
Schedule
8.30 opening remarks
8.40 Matthew Brown, Retail Futurist:
Creativity in a time of Crisis -The Future of Post-Covid Retail
9.20 Christopher Ireland, Rise of the DEO:
Design Leadership is Not Easy
10.00 Russell Beck, ImagineThinkDo:
The Future of Work: Meaning, Purpose and Belonging
10.40 - 11am BREAK
11am Breakout Session
11.20 - Kim Muller, McKinsey:
The New Possible
12.00 Blair Enns, Win Without Pitching:
Pricing Creativity and Identifying Value in Uncertain Times
12.40 Astrid Stavro, Pentagram:
The Power of Design to Transform and Drive Change
1.25 LUNCH
Workshops & Panels
2pm: Sleep for Creativity and Productivity
3pm: Next Generation Sustainable Design Practice - panel hosted by Charlotte Barker, CEO IDI
4pm: Underpinning Creativity with Strategy - Matthew Brown, Retail Futurist
Speakers, Talk details, Workshops and breakout sessions details on
https://www.designleadersconference.com/