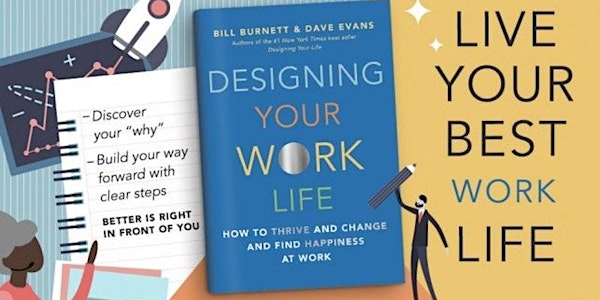 Designing Your Work Life: 6-Week Group Coaching Program
Building a working life that works for you: How to thrive, change and find happiness at work
Refund Policy
Contact the organizer to request a refund.
About this event
Stanford Design Professors Bill Burnett and Dave Evans believe that design thinking can help us create a life that is both meaningful and fulfilling, regardless of our age or the vocation we have. Their tools and methods have been tested and applied for almost a decade in the most popular elective course in Stanford University, workshops with Silicon Valley companies and their learnings have been shared in their worldwide bestseller book, Designing Your Life (DYL).
"Designing Your Work Life" group coaching program is derived from the Designing Your Life program by Bill Burnett and Dave Evans. The program is designed for professionals looking to transform their work lives and create a dream job that is meaningful without necessarily changing the job they have. It will be delivered online by the certified Designing Your Life coach in a small group coaching setting in six consecutive weeks, applying the designer mindset and utilising design thinking framework to help you thrive, change and find happiness at work.
The group (4-8ppl) will be meeting every Tuesday evening 7pm (GMT) for 90 min live Zoom sessions. Every week we'll be exploring different questions as we progress through your work design journey. Within the program, you will also have a free one-hour personalised coaching call with your coach focused solely on you.
Week 1 - ACCEPT: Where am I now? Where is the starting point of my journey?
Week 2 - EMPATHIZE: What does work mean for me? What defines good or worthwhile work?
Week 3 - DEFINE: What's the problem? What is good enough for now?
Week 4 - IDEATE: What possible futures do I have? What does my future(s) look like?
Week 5 - PROTOTYPE: How can I successfully redesign my work? What do I need to know about my next step?
Week 6 - TEST: How do I make a decision? What have I learned and unlearned?
Sinem Bahadırlı, DYL Certified Coach:
Sinem is a professional career and leadership coach, certified "Designing Your Life" coach and "Insights Discovery" facilitator.
She began her professional career in Google, Ireland. From customer experience to sales, she worked in different roles and managed various projects for Google's digital marketing and advertising products, mainly in the UK, Ireland and Turkey. During her time in Google, she designed mentoring programs, worked in building the coaching culture in EMEA sales organisation and mentored Irish startups. After leaving Google, she founded Positive Coaching Center, offering coaching, mentoring and facilitating workshops for businesses, young professionals and entrepreneurs.
In her coaching approach, respecting the authenticity of every individual, by applying positive coaching tools and methods, she helps her clients to discover and build on their personal strengths, broadens access to the person's intellectual and psychological resources, resulting in improved performance. Her field of work includes, but not limited to, changing perceptions, dysfunctional beliefs & behaviours that are limiting to reach one's potential, optimising work performance, improving communication skills, increasing productivity, expanding career opportunities, increasing self-confidence, managing work/life balance.