diff First Frame 2023 presented by TUS LSAD
Screening of diff First Frame awards 2023 nominated student films, Film industry panel & live music event.
By Creative Technologies LSAD
Date and time
Wed, 22 Feb 2023 09:00 - 16:30 GMT
Location
Millennium Theatre Moylish Park Limerick Ireland
About this event
Limerick School of Art and Design, TUS in association with Dublin International Film Festival proudly presents a preview screening of diff First Frame 2023: student film awards, Film Industry panel discussion with Q&A and live musical performance in TUS Millennium Theatre, Limerick on Wednesday 22nd February from 9am- 4.30pm.
Short Film Programme
The event includes a screening of diff First Frame 2023 Award nominees. These films are produced by third level students from around Ireland, across a range of genres including animation, documentary, experimental and drama. The two short film programmes take place at 9am and 2.30pm. The event is opened by Dr Susan Liddy, Mary Immaculate College Limerick, Women in Film and Television International (President) and Women in Film and Television (Ireland)
Film Industry Panel discussion
A special Film industry panel of interest to film students and film makers alike takes place in TUS Millennium Theatre from 11am-1pm. This includes award winning director, diff Film Maker in Residence 2023 and TUS alumni Laura O'Shea, who's award winning short film, 'Wednesday's Child' will also be screened on the day.
Laura is joined by Michelle Ryan - Limerick-based Director and founder of EPIK Media, and Editor and TUS (LIT) alumni Philip Shanahan. The panel is also joined by Rachael Power, Manager of the National Talent Academy TV+Film (Munster) Manager and Film in Limerick representative.
Music Performance with Limerick- based Mexican soloist, Fer Kenobi.
Read more about diff here
The event is also streamed via Eventive (link tba)
The event is hosted by staff and students of the Creative Broadcast and Film Production and Music Technology and Production programmes at LSAD Department of Digital Arts and Media, TUS Moylish Limerick in partnership with Dublin International Film Festival, supported by WarnerBros.
Schedule
The event takes place in TUS Millennium Theatre Moylish from 9am-4.30pm.
9am: Opening address - Dr Susan Liddy (Mary Immaculate College, Limerick) Chair, Women in Film & Television Ireland
9.30am Short Film Programme 1
11.30 am: Film Industry Panel
1-2pm Lunch break
2pm: Live Music
2.30-4.15pm: Short Film Programme 2
New! Screening running Order
Programme 1
The Total Station 9 (TU Dublin Media) Cian Geoghegan
Undying Heart 9 (DKIT) Cian Gibson
Battle of The Cans 2 (LSAD TUS) Elina Burykina, Edmund Murphy, Kieran Brennan, Dermot Nolan
Masked Mystery 3 (LSAD TUS) Aran Bradley, Mattia Zerbinati, Oliwia Deyna, & Sara Justino
Cry Baby 6 (NFS IADT) Tess Doolan Burke
Thin Walls 7 (NFS IADT) Ethan Dodd, Aisling Keogh
Nico 3 (LSAD TUS) Dailies Productions
Til Forever Falls Apart 7 (TU Dublin Media) Eve Murphy
Bed Sheets 5 (GTI) Macnás Moreno
Imagine Ethan 2 (LSAD TUS) Shola O'Riordan
The Tap 5 (GTI) Brian May
What's Done is Done 5 (MU) James Patrick Murphy and Shekainah Santos
Floare 3 (NFS IADT) Colin Dragoi
No Evil 11 (DKIT) Oisin Martin
Influenza! 4 (NFS IADT) Oisin McKeogh, Sophie Lynch
Dungeons and Dreams 6 (LSAD) Simon Cunningham
Last Seen 4 (NFS IADT) Wiktoria Weinritt
The Finer Details 10 (LSAD) Alyssa Fleming
Love by a Blue String 1 (DIFE) Coraline Ferol
Standing Bear 7 (DKIT) Dillon Donohoe
Programme 2Enough 9 (TU Dublin Media) Jack Wall O'Reilly
Soulmates 10 (DKIT) Shona Kelly
The First Selona 2 (LSAD TUS) Púca O Donnell
It Came from Outer Space (probably) 2 (LSAD TUS) Peter Ruddock
Did you Finnish? 6 (GTI) Melissa Brogan
Retail 6 (NFS IADT) Donal Cotter, Jess Lyons
Bright Bronze 4 (NFS IADT) Cormac Doherty
I 1 (LSAD TUS) Eva Dobuseva
The Shadow 4 (GTI) Ashley Durkin
True Wind 12 (TU Dublin Media) Molly Kiely
Ixtli 2 (LSAD TUS) Emiliano Pineda Alverado
Púca 6 (LSAD) Heather Curtin
Ultra 6 (SETU) Lia Nic Craith
Faithful 9 (DKIT) Ciara Harrington
Something to Declare 2 (ETB Kinsale) Jack O'Reagan / Rowan Williams Huber with David Ian Bickley
Watercolour 3 (NFS IADT) Dara McManus
Under Observation 3 (BCFE) Katie Ryan
Good Grief 7 (NFS IADT) Julia Wysocka, Hana Mohammed
Transcendence 3 (TCD) Megan O Rourke
Take Control 5 (DKIT) Jessica Thompson
Dancing in Depth 5 (DKIT) Sarah Connolly
Further information contact: Muireann de Barra - muireann.debarra@lit.ie
Documentary film maker and joint-Programme Leader, Creative Broadcast and Film Production, LSAD TUS
*The diff First Frame 2023 award winners will be announced in Dublin's Lighthouse cinema on Thursday 23rd February.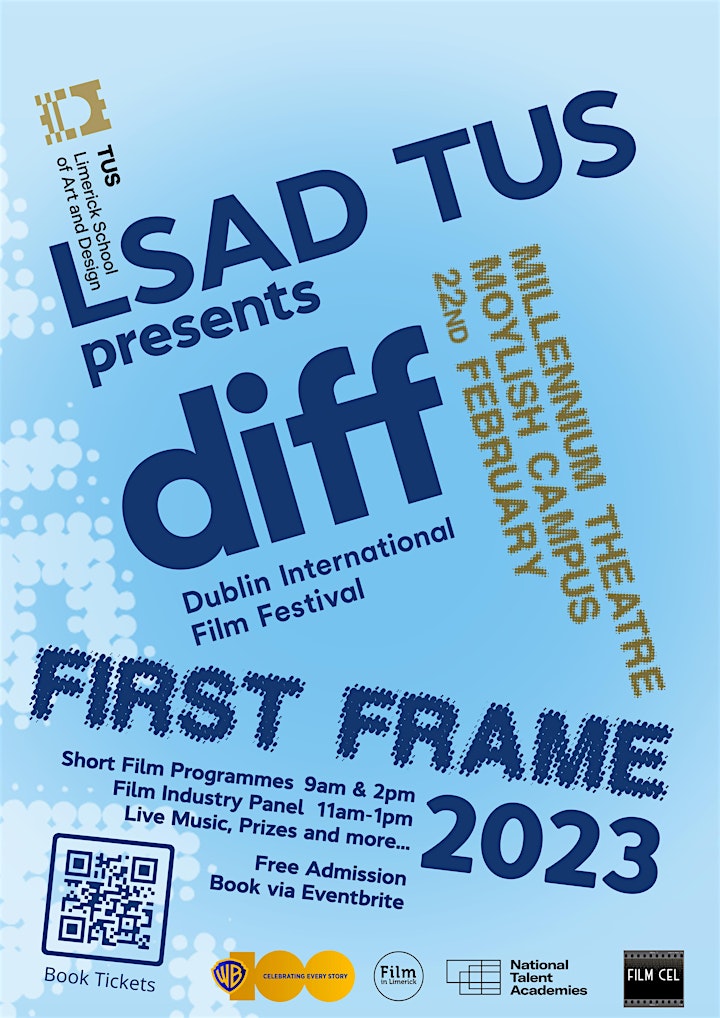 About the organiser
Creative Technologies LSAD
Limerick Institute of Technology
BSc. Music Technology & Production LC372 
BSc. Creative Broadcast & Film Production LC371
Do you love music, film, and creating your own media content?By choosing a programme within Creative Technologies LSAD you will get the opportunity to harness your skills and equip yourself for the fast-paced Film & Music industries. Realise your creative potential and enter the world of professional Film and Music production.
Creative Technologies
Home of Film & Music Studies in the Midwest.