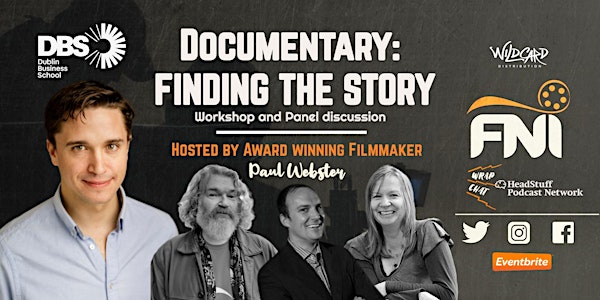 Documentary: Finding the Story
A one day course and Industry Panel Discussion
Refund Policy
Contact the organizer to request a refund.
About this event
Documentary: Finding The Story with Paul Webster
This day long course and Panel discussion hosted by Paul Webster will focus on creating entertaining and compelling short documentaries.
Paul Webster is an award-winning producer, writer and director. He is a graduate of Galway Mayo Institute of Technology and the MA program in Production and Direction at the John Huston School of Film and Media in Galway. He went on to work in production for Element Pictures and later as a script editor on Fair City, he is now a regular writer on the popular soap. Paul was the winner of the Físín Pitching Award at the Dingle International Film Festival 2012 from which his film 'Stuama' received its funding. He directed the drama which won Best Irish Film at The Cork Underground Film Festival 2013. Let Those Blues In, Paul's documentary about Irish Blues musician, Paddy Smith, was the winner of Best Short Documentary in association with RTE at The Sky Road Film Festival, Clifden, Co. Galway in October 2015 and it was chosen as the closing short film at The Craic Fest Irish Film Festival in New York, March 2016. He received a €35,000 production fund from Science Foundation Ireland and The Galway Film Centre as part of their Science On Screen documentary scheme. Written and Directed by Paul, Mending Legends goes behind the scenes of Irish sport to explore the unseen drama caused by injuries for our top athletes. It screened on Tg4 in Autumn 2017 and was the third most-watched independent production for that year. Paul co-directed Borderland, a 26-minute documentary exploring the refugee crisis along Europe's Borders. Under the 2018 Real Shorts scheme, Paul received €20,000 from the Irish Film Board for his docu-drama - The Vasectomy Doctor, produced by Carbonated Comet Productions. The film premiered at the Cork Film Festival in November 2018 and won the Audience Award for Best Short at the Dingle International Film Festival 2019. Paul is also Co Host of Fni's Popular Podcast WRAPCHAT.
Paul will use his award-winning short documentary The Vasectomy Doctor as a case study, discussing how he pitched and then went on to direct the film and also look at how the film was distributed. To learn how filmmakers can make the leap to feature documentary.
At the end of the class, There will be a 2-hour panel discussion and Q&A with Alex Fegan (Older than Ireland, The Irish Pub) Gerry Nelson (The Game, Rte) and Nessa Ní Chianáin Director of Guth Gafa Film Fest and Director of This School life. You can purchase rickets for the whole days class and panel or the panel on it's own, which will begin at 5:30pm.
About our Panel:
https://www.sdgi.ie/alex-fegan
https://www.sdgi.ie/gerry-nelson
https://www.sdgi.ie/neasa-ni-chianain
We're also adding the Successful Writer and Director Paul Duane to our Panel. 
Has directed television programmes including: Ballykissangel,Casualty, The Royal, Small Potatoes, Footballer's Wives
Paul has also made several short films including LSD 73!, based on an original script by the Irish novelist Patrick McCabe. More recently he co-created the ITV series Secret Diary of a Call Girl based on the well-known blog, Belle de Jour. The Irish production company Screenworks was established by Paul Duane and Rob Cawley in 2008. Their first production, Barbaric Genius, on the life of the London-Irish author John Healy premiered in February 2011.
More recent films include Very Extremely Dangerous and Natan, about the French producer Bernard Natan.
In December 2013 he was listed by Variety magazine as part of their yearly 10 Directors to Watch feature.
His latest film What Time Is Death? described as "his long-gestated study of new activities by the men who used to be KLF" is a documentary charting Bill Drummond and Jimmy Cauty's latest project to build a pyramid of hand-fired bricks, each containing the ashes of a dead person, a process dubbed MuMufication (referencing the KLF song Justified & Ancient).
What Time Is Death? featured at the 2019 Dublin International Film Festival.
During this talk you can gain some tips and tricks on how to develop to longer-form content for documentaries on Film and for TV. Get your notepads at the ready.
During the day, We'll look at the various styles, methods and tricks in the documentary filmmaker's toolbox and explore the following topics:
Finding compelling stories.
Working with subjects/contributors.
Interview techniques.
Shooting styles.
Dramatic Re-enactments/Animation.
B-Roll.
Archive.
Editing.
Marketing and distribution/festivals.
#WeAreFNI