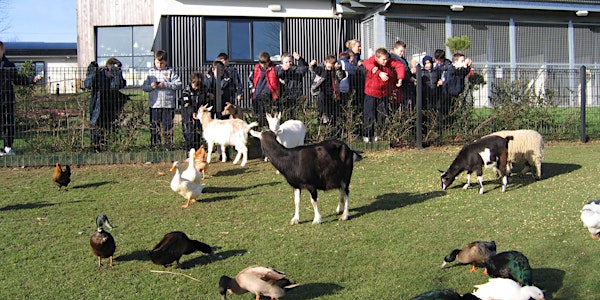 Multiple dates
DSPCA Educational Tour 2022/2023
Educational Tours of the DSPCA
Date and time
Tue, 3 May 2022 10:30 - Mon, 29 May 2023 12:30 IST
Location
DSPCA Mt Venus Rd Dublin 16 Ireland
About this event
The DSPCA providing free educational tours to schools, colleges and community groups. We can work with all ages of children and students and are happy to create an age/ability appropriate session tailored for you.
If you would like to book for your Special Education group please contact Brendan at brendan.oconnor@dspca.ie please do not book here, he will make separate arrangements for you.
At the DSPCA we feel it's important to educate from preschool and beyond that cruelty towards any animal is not acceptable and that animals should be treated with kindness and respect.
Please note we cannot take less than 10 students without special arrangement or more than 30 students per tour and there must be appropriate numbers of adults to supervise.
Our Education service is free but we do always appreciate donations to help us to continue our work caring for sick, injured and cruelly treated animals.
Please feel free to contact us at education@dspca.ie if you have any questions.
About the organiser
Mission Statement
The Dublin Society for Prevention of Cruelty to Animals (DSPCA) has been in operation since 1840. We take care of the sick, injured, and cruelly treated animals in our community. We are the oldest and have grown to be the leading animal welfare charity in Ireland. Our mission is to promote and protect the welfare of all animals. Our strategy acknowledges that animal welfare education and our work within the community for both adults and children will be essential to achieving our vision where every animal is treated with kindness and respect.
About This Cause
The Dublin Society for the Prevention of Cruelty to Animals mission is to prevent cruelty and neglect of animals through fostering the compassionate relationship between animals and people. It is a charitable, non-profit, independent organisation. It operates in Dublin city and county. The mission is to be accomplished through education, advocacy, community programmes and our rescue and rehoming centre.

DSPCA & Community:
Behind everything we do lies the unique bond with people and animals. Our work is centred around helping animals but what stems from that is animals helping people. We see firsthand the benefits of owning a pet has and the social change it can mean for people. How animals can enrich the lives of children, families, the elderly and people who face social and mental health challenges. We work with St. John of God, Merchants Quay Project and many other organisations within the community.

We rehome over 2200 animals each year through our rescue and rehoming centre.