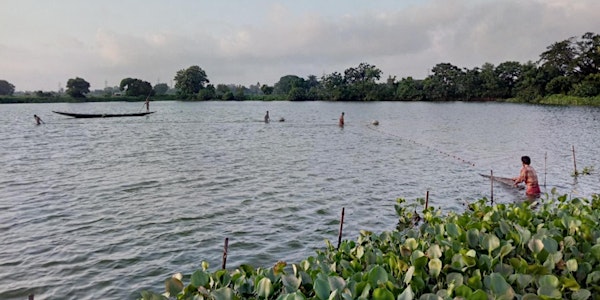 eARTh: Art, Education and Environment
Exploring how artists are connecting with environmental activism in the East Kolkata Wetlands and the recycling centres of Dharavi, Mumbai
About this event
In collaboration with Compound 13, Disappearing Dialogues, and researchers at Bath Spa University, we present two fascinating collaborative talks about the role of art and education in environmental action in two distinct regions of India: the East Kolkata Wetlands and the recycling centres of Dharavi, Mumbai
COMPOUND TERA - PLASTIC KA MELA
Sharmila Samant and Ben Parry (with Prutha Jain and Laxmi Kamble live from Compound 13 Lab)
Each day Mumbai generates approximately 9,500 tons of waste from domestic households, markets, hotels and restaurants, commercial and construction industry and institutions. Much of this hard waste finds its way to Dharavi and enters one of the largest informal recycling centres in India, based mainly in the 13th Compound. Estimates vary, but it is thought that the small businesses of the 13 Compounds typically process between 60 and 80% of Mumbai's hard domestic waste. Tens of thousands of people work in this industry and they are amongst the lowest paid and lowest status workers in the city. Specific to waste work and the intricate supply chains of Dharavi's recycling centre is the city's dependency on workers' knowledge and skills as 'citizen scientists' and the highly productive recycling practices that prevent the rest of the citizenry from disappearing under the volume of their own waste. Scrap trading built upon sophisticated cultures of repair and reclamation extract value from dismissed and discarded trash, through intricate circuits of remanufacturing and enterprise that are generally unacknowledged and unmapped.
In 2018, a team of artists and researchers established a modest project to confront the question of waste and disposability in the form of Compound 13 Lab in Dharavi, Mumbai. We envisaged this as an experimental learning space and urban ecology lab woven into spaces and cycles of waste production. Together with Dharavi's young people we have gradually established a programme of workshops, classes and artist residency programme which introduces design and media tools, audiovisual technologies, 3D design and digital fabrication to disadvantaged, marginalised citizens who because of their socio-economic status do not normally have access to these resources. The Lab utilises the materials and resources of the recycling industry, particularly plastic, as the starting point for learning and teaching about ecological design and living solutions.
A new book about the project, Waste Work: The art of Survival in Dharavi (Wunderkammer Press, 2021) documents this long-term project about waste, work and survival in the city of Mumbai. It reflects on some principles, pedagogies and processes that can begin to uncover some of this injustice and inequality, and offers 'materials of hope' for young people and workers caught up in the vicious cycles of an economy and society that treats them as disposable. The vital contribution made by informal waste recovery through the self-organised recycling sector remains undervalued by the state and rendered largely invisible, echoing the marginalised and disposable status of the extremely poor workers that sustain it.
---
JOL-A-BHUMIR GOLPO O KATHA | STORIES OF THE WETLAND
Nobina Gupta and Saptarshi Mitra, Disappearing Dialogues
For the past five years, Disappearing DIalogues Collective (dD) (www.disappearingdialogues.org) has been engaged in the East Kolkata Wetlands (EKW) - working at the intersection of education, environment and innovative arts practices. The focus of much of the work has been on environmental awareness, encouraging local practices, triggering dissemination mechanisms and so on. The East Kolkata Wetlands (EKW) spread across 12,500 hectares on the eastern fringe of Kolkata is the largest stretch of sewage-fed wetlands in the world, a protected wetland under the Ramsar convention. Working with an ecosystem of partners (other NGOs, arts institutions, other schools, consulates, etc) a series of engagements have been carried out with various trajectories of impact.
We believe that conservation of the EKW is an urgent necessity. This conservation is not just physical, but also encompasses the myriad lives, practices, unique traditions and stories of the marginalised, invisible EKW community. This forms the core of our vision. One of our major partners and collaborators in this work have been community children from middle and high schools - belonging to two schools in the EKW as well as from a few schools across the city of Kolkata. Most of dD's activities were carried out in parallel to the school curricula, and helped us realise certain important gaps that exist in the present day education and pedagogical systems.
Through a series of alternative workshops such as KnoW Waste, Nature Explorers, Cultural Speakers, on Sustainability Leaders etc. youth of both community and city gain familiarity and knowhow of the intricacies of the socio-spatial reality they are part of. This adds a dimension of knowledge that, unlike standardised forms of education, is able to instill within them interest, ownership and pride. These interventions have arts practice as a methodology of engagement – be it in the development of contextual awareness, in the creative recycling/up-cycling of waste in the community, or the dissemination of realities of the place in a powerful way to a wider section of society through exhibitions, seminars and annual events as Jolabhumi Utsav to commemorate the International Wetlands Day.
To disseminate subliminal voices, narrate unheard stories and put people at the forefront integrating the realities of the EKW, dD is currently collaborating with PARI (People's Archive for Rural India) to create visibility, empowerment and resilience within the EKW community. Our vision is to help collate and create a living archive of the extensive traditional practices, knowledge and ecological diversity within a framework that can be accessed, used and learnt from across contexts.
About Disappearing Dialogues:
Disappearing Dialogues (dD) is a dynamic platform engaging different communities, institutions, social groups and generations through interactive trans-disciplinary practices, research, documentation, and collective activities. dD co-creates experiences that foreground cultural and environmental assets, losses, sentiments and memories of a place. This is done using collective practices of arts engagement to make visible the intricacies of the otherwise mundane and quotidian lives of ordinary people. In expanding on the notion of art from the production of sensorial aesthetic experiences to that of a collaborative process - various transformative trajectories are activated.
This talk is organised by eARTh in collaboration with Bath Spa University's Research Centre for Environmental Humanities. Find out more about the RCEH.
Images: East Kolkata Wetlands, c/o Disappearing Dialogues