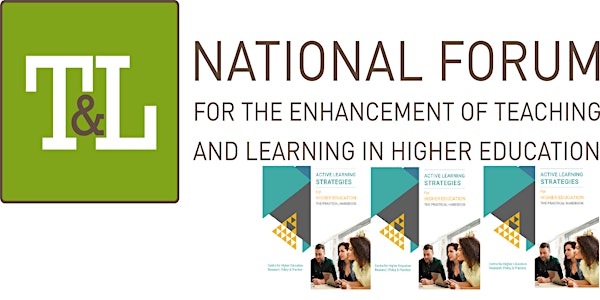 Enhancing Student Engagement: Implementing Active Learning Strategies
Experience Active Learning first hand. Develop an action plan for implementing Active Learning into your course or classroom.
When and where
Location
TU Dublin - Blanchardstown Campus Blanchardstown Road North Blanchardstown Ireland
About this event
Implementing Active Learning Strategies into your practice
This workshop is based on a recent publication, Active Learning Strategies for Higher Education, The Practical Handbook, https://arrow.dit.ie/cherrpbook/1/
During the first half of the day seven strategies outlined in the book will be demonstrated, with hands on activities designed to keep the participants moving, thinking and interacting. This first session will facilitate sample Active Learning in practice, and help develop a personal definition for Active Learning within your own professional context.
Having mastered the art of Active Learning in session one, the afternoon session will focus on your own specific discipline. Here you will get an opportunity to create an action plan for implementing one or more of the strategies into your own practice. A means of measuring your chosen activities effectiveness will also be explored.
Programme
10:00 Coffee/Tea and Refreshments
10: 15 Seven Active Learning Strategies in action. Teamwork makes the dream work!
12:30 Lunch
1:30 Action Plan for Implementation and Evaluation
3:00 Close of Workshop and Feedback