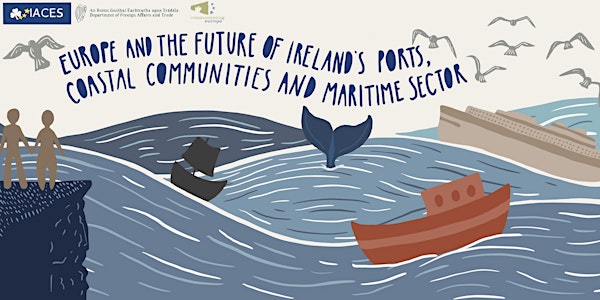 Europe and the Future of Ireland's Ports, Coasts and Maritime Sector
A one-day online conference exploring the past, present and European future of Ireland's Ports, Coastal Communities and Maritime Sector
About this event
Europe and the Future of Ireland's Ports, Coastal Communities and Maritime Sector
Friday 20 November 2020
During the process of the UK's withdrawal from the EU, there was, rightly, a great deal of focus in public debate on the issues confronting Ireland's border communities. This online conference aims to expand the terms of this debate, and to examine and deepen understanding of a key issue in Ireland's relationship with the EU – that of the future of those coastal and port communities which, at the end of the transition period, will find themselves on a new frontier between the EU and the UK.
Bringing together academics, experts and stakeholders, this online conference and workshop will explore the key role played by Ireland's ports, coastal communities and maritime sector in its membership of the EU; provide a forum in which issues confronting Ireland's port and coastal communities as a result of Brexit, climate change and the coronavirus pandemic can be discussed; and, crucially, highlight how responses to these challenges are framed and influenced by Ireland's EU membership.
9:45 am - 10:00 am
Welcome and Opening Remarks from IACES President, Dr Mary C. Murphy
10:00 am - 11:30 am
ROUNDTABLE 1
Confronting the challenge of Brexit and Covid-19 in Ireland's Ports, Coastal Communities and Maritime Sector
Chair: Dr Mary C. Murphy, University College Cork
Ciarán O'Driscoll, European Movement Ireland
Patrick Murphy, Irish South and West Fish Producers Organisation
Ben Radford, Rosslare Europort
Seamus Leheny, Logistics UK
11:30 am - 11:45 am
Break
11:45 am - 1:15 pm
ROUNDTABLE 2
EU Support for Ireland's Ports, Coastal Communities and Maritime Sector
Chair: Dr Giada Lagana, Cardiff University
A Roundtable discussion involving representatives from a number of projects funded by the European Regional Development Fund under the Ireland Wales Programme:
Ports, Past and Present
Coastal Communities Adapting Together (CCAT)
Llŷn Iveragh Ecomuseums (LIVE)
Rediscovering Ancient Connections - The Saints
Climate Heritage and Environments of Reefs, Islands and Headlands (CHERISH)
1:15 pm - 2:00 pm
Lunch
2:00 pm - 3:30 pm
ROUNDTABLE 3
Irish Sea Cultures Past, Present and Future
Chair: Dr Jonathan Evershed, University College Cork
Prof Claire Connolly, University College Cork
Lar Joye, Dublin Port Company
Prof Nicholas Allen, University of Georgia
Dr Gillian O'Brien, Liverpool John Moores University
3:30 pm - 4:00 pm
Thanks and Closing Remarks from IACES Vice President, Dr Jonathan Evershed
This is an online event that will be held on Zoom. The relevant link and sign-in information will be forwarded to registered attendees by no later than Thursday 19 November.
This event is supported by the Department of Foreign Affairs and Trade Communicating Europe Initiative.
IACES is supported by the Erasmus+ Jean Monnet Programme.