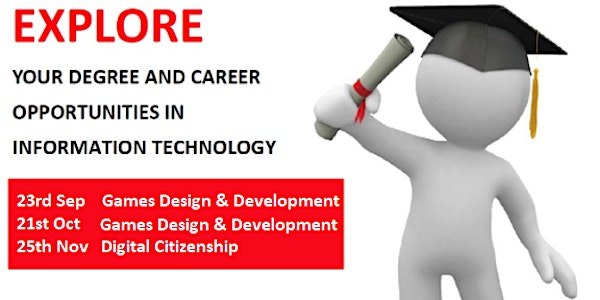 Explore IT
The IT Department in LIT will host a series of online Explore IT Career Events for potential incoming students at our Thurles campus
About this event
The Information Technology Department will host a series of online Explore IT Career Events for potential incoming students at our Thurles campus. The purpose of each event is to give students an opportunity to explore a specific career discipline of IT and to complete an online workshop activity to reinforce their understanding of each area. The schedule of events is as follows:
23rd September Games Design and Development
21st October Games Design and Development
25th November Digital Citizenship
The aim of these sessions is to give students an opportunity to experience computer science topics using innovative technologies in a hands-on and practical way.  It is aimed at 5th and 6th year students as well as mature applicants.
If you are interested in studying for a degree in Computer Science and would like to know more information on the software development, data analytics and games industries please join us. All sessions will begin at 7pm and end at 7:45 pm.