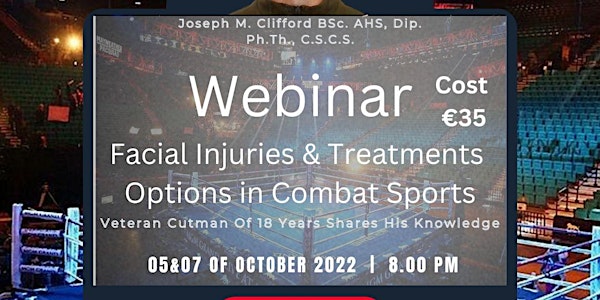 Facial Injuries & Treatment Options in Combat Sports
Live Webinar: Facial Injuries in Combat Sports and Treatment Options
Refund Policy
Contact the organizer to request a refund.
About this event
The webinar is suitable for all those who cover field events in combat sports or other sports as Cut People or healthcare practitioners. Its an insight into treating facial injuries within a minute time frame. The rules that govern these sports and the effective uses and abuses of hemostatic agents.
.
The Online Seminar is in two parts over two days each one hour in duration. It is highly interactive, an absolute eye opener, forgive the pun, for anyone interested in treating facial injuries in sports.
.
Table of Contents
1. Danger Zones
2. Prevalence of Facial Injuries in Combat Sports 3. Most Frequently Broken Facial Bones
3. Types of Lacerations & What Should Be a Fight Stoppages
4. Types of Bleeds
5. Timing of Removal of Sutures and Staples
6. Arterial vs Venal Bleeds
7. Hemostatic Agents
8. Ethical Issues with the Use of Epinephrine/Adrenaline
9. Illegal use of Epinephrine/Adrenaline 1:1000
10. Treatment Options and Application
.
Joe has also authored the book, The Ultimate Guide to Corner Care: Professional Hand Wrapping.
https://lnkd.in/ekbhz-AF
.
All are welcome from combat sports enthusiasts, sports therapists, sports rehabilitators, athletic trainers and other healthcare practitioners providing field coverage.