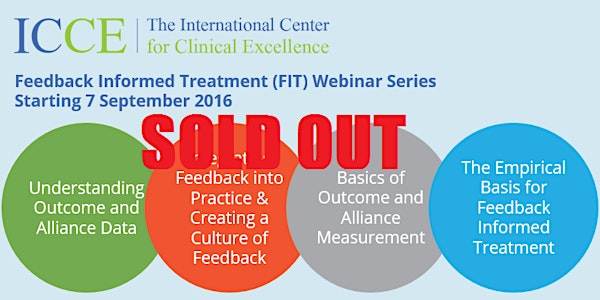 Fall 2016 Feedback Informed Treatment Webinar Series
Description
The Fall 2016 Feedback Informed Treatment (FIT) Webinar Series covers the basics of Feedback Informed Treament (FIT). Listed on SAMSHA's registry of evidence based practices and programs, FIT has been shown to dramatically improve behavioral health outcomes.Over the course of 4 one hour long webinars, Dr Scott Miller and colleague Cynthia Maeschalck will provide an overview of Feedback Informed Treatment and the most up to date information on using feedback to improve the quality and outcome of behavioral health services. Earn CEU's while learning in the comfort of your office or home. For added flexibility, if you can't attend the live webinar broadcasts, they will be recorded and made available to you at your convenience until December 01 2016.
Whether you are a therapist, social worker, case manager, supervisor, director of a clinic or quality assurance manager, this webinar series is for you!
Schedule for live Webinar broadcasts:

September 7th 2016: The Empirical Basis for Feedback Informed Treatment
September 20th 2016: Basics of Outcome and Alliance Measurement
October 12th 2016: Integrating Feedback into Practice & Creating a Culture of Feedback
October 31st, 2016: Understanding Outcome and Alliance Data
Each webinar is one hour long. Live broadcasts start promptly at 12:00 pm (Noon) Central time zone.

IMPORTANT: Please register with the e-mail you want us to use to send you instructions on accessing the webinars and the recordings. Be sure to adjust security settings to accept correspondence from us.
Please note that CEU's are optional and are provided for an additional fee (see registration page for details).
Equipment Requirements and recommendations: Internet or WiFi connectivity via computer required. A headset and microphone are recommended. GotoWebinar is used as the webinar platform and requires Citrix download when accessing webinars and recordings. Testing connectivity before each webinar broadcast is recommended. Gototwebinar 24/7 support is available to assist with connectivity issues.
If using MAC/Apple to watch recordings, you may need a media converter such as Flip4MAC that allows you to watch Windows media. There a number of these available for free download on the internet. However, we have been advised that if you have updated your MAC Apple product operating system, you should have no problem viewing the recordings.
Participants can access audio for the webinars in two ways: (1) via computer; and (2) calling in by phone. The computer audio connection is free of charge. The telephone number is not toll free.

About the presenters:
Scott D. Miller, Ph.D

Scott D. Miller, PhD, is a co-founder of the Center for Clinical Excellence, an international consortium of clinicians, researchers, and educators dedicated to promoting excellence in behavior health. Dr. Miller conducts workshops and training in the United States and abroad, helping hundreds of agencies and organizations, both public and private, to achieve superior results. He is one of a handful of "invited faculty" whose work, thinking, and research is featured at the prestigious "Evolution of Psychotherapy Conference." His humorous and engaging presentation style and command of the research literature consistently inspires practitioners, administrators, and policy makers to make effective changes in service delivery.Scott is the author of numerous articles and co-author of Working with the Problem Drinker: A Solution Focused Approach (with Insoo Berg [Norton, 1992]), The "Miracle" Method: A Radically New Approach to Problem Drinking (with Insoo Kim Berg [Norton, 1995]), Finding the Adult Within: A Solution-Focused Self-Help Guide (with Barbara McFarland [Brief Therapy Center Press, 1995]), Handbook of Solution-Focused Brief Therapy: Foundations, Applications, and Research (with Mark Hubble and Barry Duncan [Jossey-Bass, 1996]), Escape from Babel: Toward a Unifying Language for Psychotherapy Practice (with Barry Duncan and Mark Hubble [Norton, 1997]), Psychotherapy with Impossible Cases: Efficient Treatment of Therapy Veterans (with Barry Duncan and Mark Hubble [Norton, 1997]), The Heart and Soul of Change (with Mark Hubble and Barry Duncan [APA Press, 1999] and Bruce Wampold [2nd Edition, 2009]), The Heroic Client: A Revolutionary Way to Improve Effectiveness through Client-Directed, Outcome-Informed Therapy (with Barry Duncan [Jossey-Bass, 2000], and Jacqueline Sparks [Revised, 2004]), and the forthcoming Achieving Clinical Excellence: Lessons from the Field's Most Effective Practitioners.
Cynthia Maeschalck, MA, CCC

Cynthia Maeschalck, MA CCC is the Community Manager and a faculty member of the International Center for Clinical Excellence (ICCE). Cynthia has been a Senior Associate and Certified Trainer with the ICCE since its inception and has written several articles about FIT, helped to develop the ICCE Core Competencies, co-authored 3 of the 6 ICCE FIT manuals and is the lead author of the ICCE FIT Supervision Manual. With over three decades of experience as a counsellor, clinical supervisor and manager in mental health and addiction services her practical experience has been an asset in assisting clinicians and agencies around the world to understand and implement Feedback Informed Treatment successfully.

Cancellation Policy: Tickets for this event are non-refunable. Webinars are recorded and will be accessable after the live broadcasts until one month following the last live broadcast (i.e. December 01, 2016) .