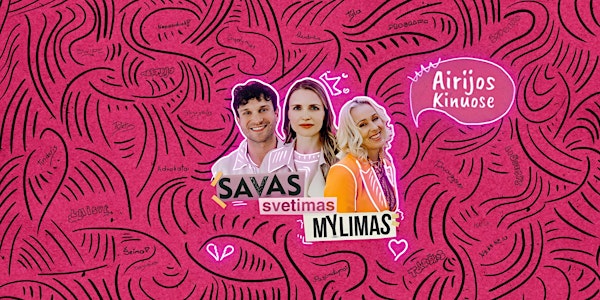 Filmas ''Savas, svetimas, mylimas'' - BELFAST (Newtownards)
Romatinė komedija "Savas, svetimas, mylimas"
When and where
Location
IMC Newtownards Blair Mayne Road South Newtownards BT23 4EU United Kingdom
About this event
Tai istorija apie vieną dažniausių šių dienų krizių – skyrybas. Filmo siužetas sukasi apie pagrindinę heroję Ugnę – dviejų vaikų mamą, kurią po penkiolikos metų bendro gyvenimo metų palieka vyras. Ignas ruošiasi vesti jų namus kūrusią architektę, tuo tarpu Ugnė – skendi liūdesyje ir savigraužoje. Negana to, ji netenka darbo, mat Ugnė dirba reklamos agentūroje, rašo tekstus reklaminiams šūkiams, kuriems reikia optimizmo ir šviesos, o ne depresijos kupinų išsiskyrusios moters marazmų.
Skausmu Ugnė dalinasi su psichoterapeute ir artimiausiais žmonėmis – mama, seserimi Liepa ir geriausiu jųdviejų vaikystės draugu Ryčiu. Visų nuomonės, kaip Ugnei išlipti iš gedėjimo stadijos ir gyventi toliau yra skirtingos.
Matydama sesers grimzdimą į depresijos liūną, Liepa pasiūlo jai mistišką, niekur negirdėtą krizių valdymo programą. Programos esmė – Ugnę imasi kuruoti jau sėkmingai nuo skyrybų "išgijęs" žmogus, mentorius, su kuriuo ji privalo bendrauti keletą mėnesių. Vienintelė sąlyga – jiems draudžiama susitikti. Gydymas Ugnei puikiai padeda, tačiau nutinka nenumatytas dalykas. Ji įsimyli savo pagalbininką. Dabar jos tikslas išsiaiškinti – kas jis?
Filmas lietuvių kalba, be subtitrų.
Režisierės: Agnė Marcinkevičiūtė, Sonata Visockaitė
Scenarijaus autorė: Monika Budinaitė
Prodiuseriai: Povilas Skaisgirys, Erikas Kundreckas
Filme vaidina: Gabrielė Malinauskaitė Rudzienė, Ineta Stasiulytė, Vaidas Baumila, Kristina Kazlauskaitė, Ainis Radkevičius, Austėja Radkevičiūtė, Mantas Vaitiekūnas, Oksana Pikul, Mindaugas Capas, Šarūnas Datenis, Sonata Visockaitė