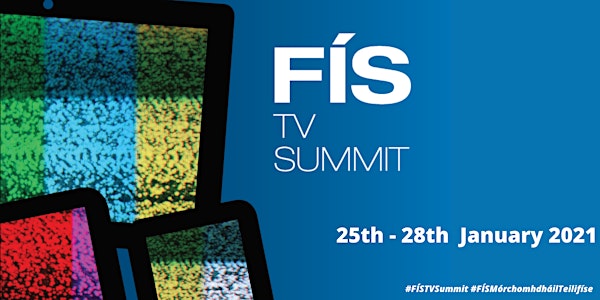 Fís TV Summit 2021
FÍS TV Summit Goes Digital For 2021 With a Host of Speakers from Amazon, BBC, ITV, ZDF, Acorn, Screen Ireland and more.
About this event
Galway Film Centre is delighted to announce that the FÍS TV Summit (Fís) will return in 2021 and will take place online as a series of events from the 25th to 28th January 2021. The keynote speaker in Ireland's only TV conference will be Amazon Studio's Director of European Original Series, Georgia Brown.
The 2021 Conference offering is designed to support and connect the Irish television community in light of what has been a very challenging time, and will still deliver the key flagship moments that have become integral to the industry's calendar, including an array of speakers, case studies and panel sessions focusing on the theme of Knowing Your Audience.
Speaking for the first time directly to Irish content creators, Fís will welcome Amazon Studio's Georgia Brown. Georgia Brown is the Director of European Amazon Original Series for Amazon Studios where she oversees the development and production of scripted and non-scripted Amazon Originals in Europe.
Other highlights include an In Conversation event with legendary showrunners Jed Mercurio (Line of Duty, Bodyguard) and John Yorke; a Meet The Commissioners series featuring the BBC, ITV and Channel 5; the Discussing Distribution Series with ZDF, Fremantle and Acorn as well as an introduction to the Asian Market and panel on the Irish television landscape.
SCHEDULE:
Monday 25th January 2021
12.30 - 13.10: Discussing Distribution - Yi Qiao (ZDF)
15.30 - 16.15: Irish TV Drama: Where Do We Go From Here - Alan Esslemont (TG4), Andrew Byrne (Fís Éireann), Dermot Horan (RTÉ), Bill Malone (Virgin Media)
Tuesday 26th January 2021
10.00 - 10.40: Meet The Commissioners - Tommy Bulfin (BBC)
12.30 - 13.10: Discussing Distribution - Jamie Lynn (Fremantle)
15.30 - 16.00: Demystifying the Asian Markets - Llion Iwan
Wednesday 27th January 2021
10.00 - 10.45: In Conversation: Jed Mercurio & John Yorke (in partnership with MediaXchange)
12.30 - 13.10: Discussing Distribution - Catherine Mackin (Acorn)
Thursday 28th January 2021
10.00 - 10.40: Meet The Commissioners - Huw Kennait Jones (ITV)
12.30 - 13.10: Meet The Commissioners - Daniel Louw (Channel 5)
15.30 - 16.00: In Conversation: Georgia Brown (Amazon Studios)
Jade Murphy, Fís Programmer said: "Our industry is based on creative innovation and so too is the Fís TV Summit. We are excited to present a host of innovative webinars to Irish content creators on the theme of Knowing Your Audience and announce Amazon's Georgia Brown as the first speaker of our exciting line-up. Television's vital role in our lives has never been so present, valued and cherished, and so the team will be doing everything we can in 2021 to keep discussion flowing, talent supported and diversity encouraged. I would like to thank our partners, sponsors and advisory committee for their continued support, advice and guidance".
About the Theme:
With the rise of Over-the-Top Subscription Video-on-Demand (OTT SVOD) services, together with the majority of broadcast and cable networks offering an unheard of plethora of viewing options, how the average person consumes TV content has changed immensely, and will continue to do so. So who are our audiences and how do we meet their expectations when developing our stories for the screen?
Register Now:
Registration for Fís is now open. Tickets for the virtual Summit are free but will be limited so be sure to register early.
More about Fís:
Organised by the Galway Film Centre in partnership with Screen Ireland and TG4 with support from Broadcasting Authority of Ireland (BAI), Gréasán na Meán Skillnet, Screen Skills Ireland, Creative Europe Media Desk, GMIT and the WRAP Fund, Fís looks at the television landscape and the current trends, challenges and opportunities as well as creating a chance for Irish talent to connect and network with Irish and international television professionals. Now in its fourth year, past guests at this Galway event have included Sarah Phelps (Dublin Murders) Vince Gilligan (Breaking Bad), Beau Willimon (House Of Cards), Jimmy McGovern (Cracker) and Amy Huberman (Finding Joy). Fís has also become a key component in the UNESCO City of Film/Ceantar Scannán calendar.
Further information can be found at www.galwayfilmcentre.ie and/or follow the hashtag #FÍSTVSummit on social media.