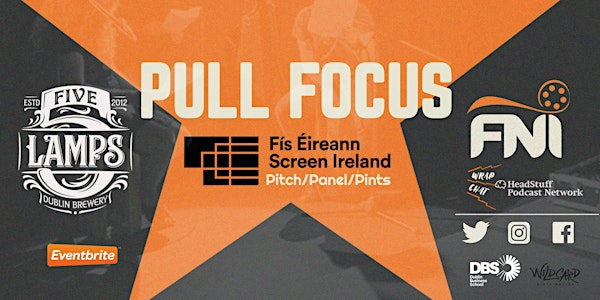 FNI Pull Focus
Film Network Ireland's Biggest networking event to date. With Pitching, Panel Discussion and Pints. Brought to you by Five Lamps Brewery.
When and where
Location
The Five Lamps Brewery 2 Camden Place D02 DH36 Dublin 8 Ireland
Refund Policy
Contact the organiser to request a refund.
About this event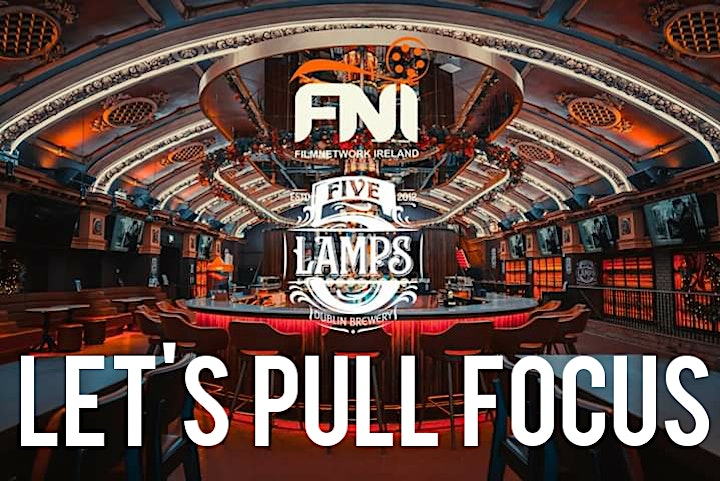 Here it is folks our biggest networking event to date, Brought to you by Five Lamps Brewery. In the beautiful surrounds of their brand spanking new brewery floor, comprising of their new screening room, and private Speakeasy bar.
SOOOOO Exciting to be partnering up with Five lamps Brewery.
FNI Pull Focus is a great opportunity for people working in film and tv to take the opportunity to network at our biggest event to date. After our Numerous networking events at various Film festivals across the country over the last year, including, X-Pollinator, The Cork Film Festival, The Kerry Film Festival and our recent partnership with The Virgin Media Dublin International Film Festival.
Delighted to announce there will be will be a pitching session for people working on any short material to gather required producers/directors & crew or generally as a tool to generate interest in their project.
This event takes place just over a week before submissions for Screen Ireland's Focus next submission round.
We will have a panel of industry invited speakers to talk about their experiences of the scheme from Submission, through to production and into marketing and festival strategy and the experience overall and general short film content processes and pipelines. 
This is also a wonderful opportunity to generally network, meet guests of the podcast FNI Wrapchat and we will be running a short round of networking to acquaint attendees with each other before we get to the main section of the evening.
Our two classes of our screenwriting students will be on hand of the last two FNI initiatives of "Get it Made". Screenwriting classes hosted with Bafta winner Colin McKeown, with Dublin Business School. The over 30 or so screenwriters have work-shopped up to 25 fully written 10 page scripts over the last 14 months.
There will also be other surprises on the night and entertainment.
Plus lovely Five Lamps beer. WHATS NOT TO LIKE?
Book an early Bird Ticket at a discount for the next two days to save on attendance.
Make films, not excuses in 2020.
We're proud to announce the first two members of our panel for our Pull Focus event on the 28th Feb.
Brendan Canty is a writer/director from Cork, Ireland. In September 2013 Brendan made a video for a then unknown artist called Hozier for his track, Take Me To Church. The powerfully emotive film went viral and has over 700 million views and two MTV VMA 2015 nominations to date – Best Direction and Best Rock Video. The Irish Times selected him as one of the 50 most creative people in Ireland.
Commercially; he has directed campaigns for the likes of Budweiser, Sky Sports, Lloyd's Bank and Three Mobile. In 2017 he directed his first short film, FOR YOU, which starred Barry Keoghan (DUNKIRK, THE KILLING OF A SACRED DEER). It won Best Short Film at the Kinsale Sharks, was nominated for an IFTA and in 2019 was awarded a Vimeo Staff Pick.
Last year, he directed a campaign video for the President of Ireland Michael D. Higgins and completed his second short film, CHRISTY made as part of the Focus Shorts programme which he is now developing into a feature.
We're also Joined by playwright, Screenwriter and Director, Gary Duggan
Gary was raised in the North Dublin suburb of Donaghmede. He studied Media Production at Dublin Institute of Technology. Gary began writing scripts at the age of 15 while attending Grange Community College in Donaghmede.
He won the Stewart Parker Trust Award for his first play MONGED.
He has numerous Theatre, Tv and Film writing credits including co-writing the RTE series Amber and he currently has a number of projects in active development, including Costigan which was commissioned initially as an RTE Storyland project.. Recently Gary was selected for Series lab with Creative Europe and development with Screen Ireland.
Next up is producer on the rise Jessie Fisk.
Jessie has been producing creative documentaries and auteur-driven films for the last five years. Her first narrative feature as lead producer, SONG OF GRANITE, premiered at SXSW and was been chosen as Ireland's submission for the foreign language category of the 2018 Academy Awards. Jessie has also produced a number of feature length documentaries including Tom Burke's LOSING ALASKA which premiered at IDFA 2018 and INSIDE APOLLO HOUSE alongside Jim Sheridan for TV3. Jessie has just finished shooting SHADOWS, an Irish-Italian co-production funded by Screen Ireland and RAI in Italy and is in pre-production for WOLF, another screen Ireland funded feature film starring George MacKay and Lily-Rose Depp and will be sold internationally by Bankside Films. Jessie is an alumni of the Rotterdam Producers Lab.
Jessie also produced 'Maya' for Focus shorts in recent years.
Jessie also joined us on episode #28 of Fni Wrapchat to chat about her career so far Check it out.
https://www.headstuff.org/fni-wrap-chat/28-jessie-fisk/
Next up for our panel this FRIDAY...
Is writer Cian McGarrigle.
Cian McGarrigle wrote the RTE Storyland web-series Burning Wishes which has won awards at web festivals worldwide. He also recently wrote the short film "Rip to the Rescue' which is currently doing the rounds at film Festivals in Ireland, UK and America, Directed by Paudie Baggot.
He has directed shorts, ads and music videos and written for Republic of Telly. in 2014 he won the Pitching Award at the Galway Film Fleadh for his feature 12 Gauge Withdrawal.
He also recently wrote for Nowhere Fast for Rte, Virgin Media Television's drama Red Rock and is developing Burning Wishes as a television series with Deadpan Pictures.
Cian also wrote weekly sketches for Callan's Kicks on RTE.
He's also developing and writing an animated show for Cartoon Saloon.
He's not very tall.
#WeAreFni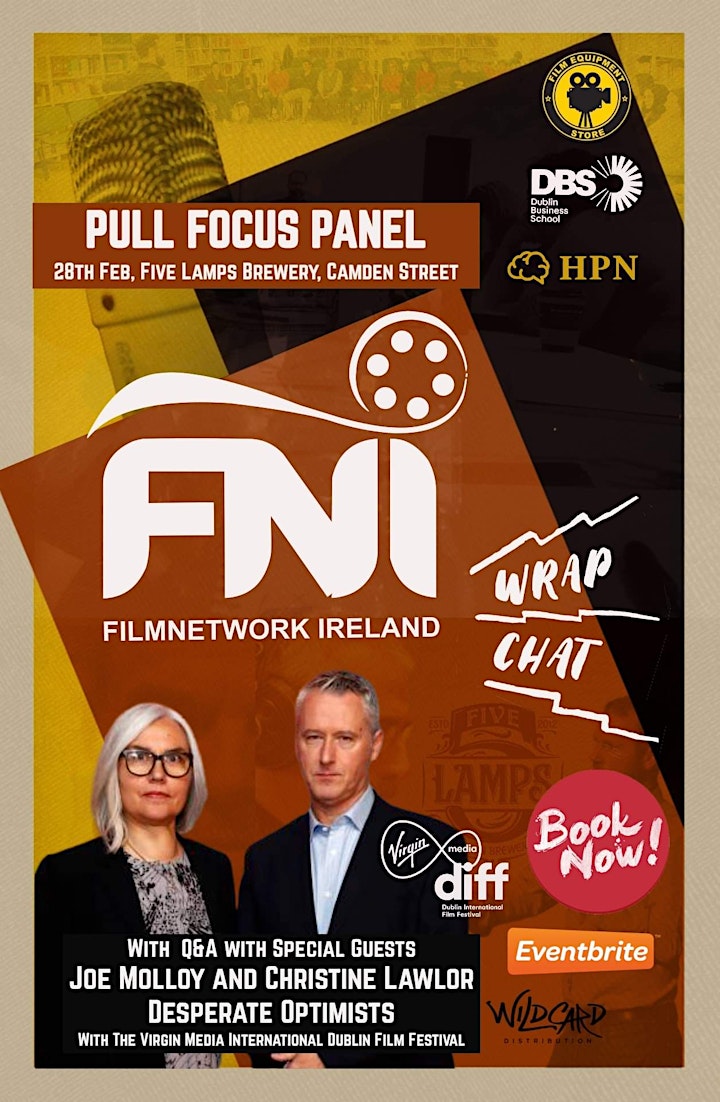 Their Film catalogue includes. Features Rose Plays Julie (2019) Further Beyond (2016) Mister John (2013) Helen (2008) Shorts Tiong Bahru (2010) Joy (2008) Daydream (2006) Leisure Centre (2005) Now we are grown up (2005) Town Hall (2005) Twilight (2005) Revolution (2004) Moore Street (2004) Who Killed Brown Owl (2004) Don't miss out on this wonderful opportunity to chat with two of Ireland's busiest and unique filmmakers and creatives.