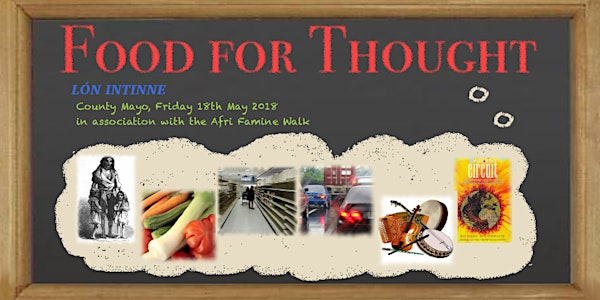 Food for Thought/Lón Intinne: Conversations on Cultural Resilience
Location
GMIT Castlebar
Westport Road
Castlebar
Ireland
Description
The recent extreme weather events in Ireland, international instability and the refugee crisis have focussed many minds on the fragility of the global economy and the vulnerability of ecosystems worldwide, and on the urgent need to build community and resilience on a local level whilst also reinforcing global solidarity and justice.

Against the backdrop of Afri's Famine Walk on Saturday 19th, these two innovative events intend to explore some of today's sustainability challenges in Ireland and globally. This will be done in conversation and through culture, using the Great Famine as a backdrop, reflecting on the policies and politics of famines, and in solidarity with the global justice movement, the UN Sustainable Development Goals, climate action and food sovereignty.

The events will also explore and celebrate the legacy of the radical economist Richard Douthwaite, who was known around the world for his creative, inclusive thinking and his belief in the power of discussion to achieve substantive progress.

Partner organisers include Feasta, the Foundation for the Economics of Sustainability, which was co-founded by Richard 20 years ago. Feasta will be joined by the justice and human rights NGO Afri, the community resilience NGO Cultivate, a recently formed Irish language group, Teacht Aniar, and Food Sovereignty Ireland.

A strand in Irish aims to explore ecological parallels in culture, language and resilience - again with a backdrop of the Famine, which is often called an Drochshaol (the bad life). This will be facilitated by Teacht Aniar (which literally means resilience). Beidh fáilte ar leith roimh chainteoiri na teanga, go háirithe muintir na Gaeltachta.

An evening celebration of Cultural Resilience with further conversation, ceol & craic will take place in Westport from 8 to 11 pm .

Daytime event: Conversations on Cultural Resilience - Famine, Food, Energy & Culture
Date: Friday 18th May 10.30-17.00
Venue: GMIT Castlebar, Co Mayo
and
Evening event: An evening celebration with conversation, music and the spoken word
Venue:Upstairs at Blousers (Walshes) Westport 20.00-23.00

Organisers: Feasta, AFRI, Cultivate, Food Sovereignty Ireland and Teacht Aniar

Day Programme:
10.30 - Registration
10.50 - Music
11.00 - Welcome & outline of programme
11.10 - Exploring the Irish experience of Famine.
11.20 - Personal testimonies
11.30 - Keynote speaker - Peadar Kirby

Peadar Kirby is an author and Professor Emeritus of International Politics and Public Policy at the University of Limerick. He is a fluent speaker of the Irish language and has published a number of books/articles in English and Irish on topics such as the Economy of Ireland, Growth and the Celtic Tiger, Transitioning to a Post-carbon Society: Degrowth, Austerity and Wellbeing, Pathways to a Post-Carbon Society and From techno-optimism to political economy. Peadar currently lives in Cloughjordan Ecovillage.

12.00 - Small Roundtable discussions- linking the experience of famine with current vulnerabilities
12.25 - Wider group discussion
12.50 - Keynote listener - Identifying emerging themes

13.00 - Lunch

14.00 - Reflecting on the legacy of alternative economist Richard Douthwaite
14.30 - Personal stories - remembering Richard Douthwaite and his work (in pairs)
14.40 - Full room conversation- harvesting insights from Richard's work
15.00 - Small group conversations on aspects of Richards work - Food, Energy, Money, Work, Basic Income,
15.30 - Break
15.45 - Full room conversation - What is needed now? What have been the obstacles to realising the ideas that have been proposed by Richard and other innovative thinkers? What actions can we take? How can we best support efforts to see these ideas implemented ? Where do minority languages and culture sit?
16.40 - Reflection from Keynote Listener
16.50 - Recognising Richard's work as part of FEASTA's 20th anniversary

Please note:

Participation at the events are free of charge, however, participants must pay for their own catering.