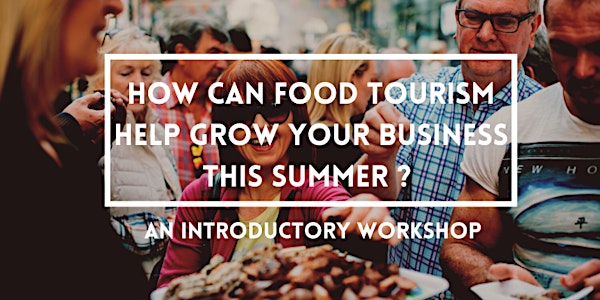 Food Tourism can Grow your Business this Summer. Let me show you how !
Tourists are often on the look out for authentic experiences when visiting a new area. Artisan food and drink appeal. How to get noticed ..
About this event
Food Tourism can GROW YOUR BUSINESS this summer. Learn how during this online workshop.
Why?
Embracing tourism will help to grow your business.
Visitors to Mayo spend almost €40m on food and drink and there is increasing interest in experiential food experiences and in learning about how and where food comes from.
This training session helps you to identify the opportunities for your business.
What's involved?
This is a 3-hour interactive online training session exploring
:• What we mean by food tourism
.• Who the visitors to Mayo are and what they're looking for
• Examples of food tourism around Ireland & global food tourism leaders.
• Ideas to help increase sales in the lead up to Christmas.
• How tourism can benefit your business
Who's it for?
The course is for Mayo food & drink producers & hospitality businesses.
Take the opportunity to:
• Talk to other like-minded people about your ideas
• Develop practical approaches to increase your revenue.
👍 There is no cost to you, it's a FREE training event.
📅 Build time into your work schedule to focus on considering new ideas for your business
😃 Meet some new people and expand your connections!
This session will be delivered by Suzanne O'Brien, Shore Tourism, who has worked in tourism for over 20 years. She has a wealth of experience having worked with tourism businesses, food producers, food trails & tourism destinations and brings all of this experience to this interactive session.
This workshop will be delivered via Zoom (with time for ☕ breaks!)
Ideally you will have access to a camera and microphone as you will get more from the training.
Participation is strongly encouraged!
Please have paper and pen at the ready for taking notes, although the presentation can be emailed to you after the training if you wish.
Please note: This workshop is for food and drink producers based in Co. Mayo ONLY.