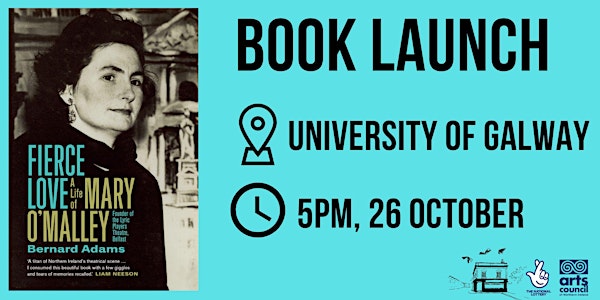 Galway Book Launch – Fierce Love: The Life of Mary O'Malley
Join us to celebrate theatre pioneer Mary O'Malley at the launch of the new biography on her life by Bernard Adams: Fierce Love.
When and where
Location
Moore Institute Seminar Room (G010), Hardiman Building, University of Galway University Road Galway Ireland
About this event
The Lilliput Press cordially invites you to join us in celebrating the legacy of Mary O'Malley, and the launching of Bernard Adams' new biography on her life and work.
With special contributions from Professor Lionel Pilkington, Professor Daniel Carey and Conor O'Malley. Archive exhibition from the O'Malley/Lyric Theatre Archive, curated by Dr. Barry Houlihan.
Copies of Fierce Love will be on sale during the event with thanks to Charlie Byrne's.
5PM on Wednesday 26 October
Moore Institute Seminar Room (G010), Hardiman Building, University of Galway
_______________________
ABOUT THE BOOK
Cork-born theatre pioneer (1918–2006), Mary O'Malley, was the founder and director of Belfast's Lyric Players Theatre from 1951–81.
In 1947 Mary married Armagh-born doctor Pearse O'Malley and thereafter moved to Northern Ireland. She was elected to Belfast Corporation in May 1952, as an Irish Labour Party councillor for the Smithfield ward and in 1959 she founded Threshold literary magazine.
She started Belfast's Lyric Players Theatre in the former stables at the back of her Malone Road home. A self-taught and tireless director, she contested cultural populism and indifference in the north during the '50s, '60s and '70s to pioneer the new theatre. As their repertoire grew, O'Malley felt it necessary to provide a permanent theatre for the company, and in 1961 the Lyric Players Theatre became a non-profit association, a base from where her protégés from Liam Neeson, Ciarán Hinds and others bestrode stage and screen in the last half of the twentieth and beyond.
Fierce Love chronicles a resourceful and controversial individual, who swam against the tide of populism and sectarianism to establish an independent academy for actors and artists in a tireless quest for imaginative freedom and excellence. Mary O'Malley's life was complex, and her legacy enduring.
'A titan of Northern Ireland's theatrical scene ... I consumed this beautiful book with a few giggles and tears of memories recalled.' Liam Neeson
ABOUT THE AUTHOR
Bernard Adams, a Dubliner with Ulster roots, went to school at Portora in Enniskillen and read English at Trinity College, Dublin. He became a journalist, writing early notices of Mary O'Malley's plays for the Belfast Telegraph in Belfast before working as a BBC television producer in London. He is author of Denis Johnston: A Life (Lilliput, 2002).
UNIVERSITY OF GALWAY
The archive of the Lyric Theatre, curated by Dr Barry Houlihan, is housed at the Hardiman Library, University of Galway. Comprising over eighty boxes of files, the archive contains voluminous correspondence with important literary figures, photographs of productions, annotated prompt-scripts, finance and board records of the Lyric, as well as programmes, posters, and other ephemera from the Lyric's rich history of over five decades. It includes over one hundred and twenty boxes of manuscripts, typescripts, photographs, letters, ephemera, posters, and other records that document the history of the Lyric Theatre, from 1951 through to the 1990s.