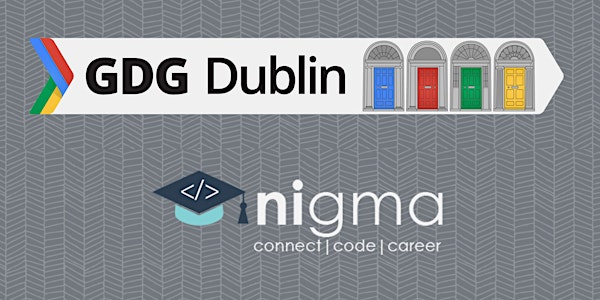 GDG Dublin September Event with Nigma
When and where
Location
Google Docks Barrow street Dublin
Description
Google Developer Group (GDG) Dublin, as part of the tech community, is always looking to help new group getting off the ground. For our September event, we will be helping Nigma to start their Dublin chapter.
Nigma [
http://nigma.io
] is a non-profit student developer community that was started with the aim to help bridge the gap between students in academia and those coming out to the workplace. With there being so many different areas of computing, technology stacks and various skills being demanded by employers, it can not only be an intimidating experience but it can be difficult knowing what to learn.
Follow us on
@nigmaio
to keep up-to-date on our Belfast and Dublin activities.
Join us for an evening in Google EMEA headquarter to discover more about the company.
My Minecraft-Smart-Home: Prototyping the Internet of Uncanny Things by Sascha Wolter.
Software solutions and everyday objects are becoming increasingly "smarter", take over more "responsibility" and know more and more about us and our intentions. But what does that mean for developers, and what impact does this have on the user? How do we convey the understanding and competence
for
this Internet of Things? Sascha Wolter covers typical IoT challenges and inspires with crazy and sometimes creepy examples. He also introduces a prototypic approach for hardware and software ideation based on visual programming languages, games like Minecraft, and several IDEs. Of course, it is shown that this pragmatic approach is also suitable for professional projects using IoT platforms and smart home solutions such as Google Weave, Eddystone Beacons, Eclipse SmartHome, or openHAB.
Sascha Wolter is a professional developer and user experience enthusiast with
passion
for the Internet of Things in all flavors. He also works as a consultant, trainer, lecturer,
keynote-speaker
, and author who focusses on understanding,
innovation
and value. Sascha is the founder of the User Group flashforum.de with more than 100,000 members, and as such he is committed to the interests of the user. After organizing internationally renowned events like beyond
tellerrand
from 2001 to 2011, he is now
board
member of the Usability & User Experience committee at the federal association BITKOM. When he is not tinkering with new soft- and hardware for Deutsche Telekom AG – Connected Home, he likes discovering the world together with his kids in an odd way.
Why Kakoune - The quest for a better code editor* by Maxime Coste
As programmers, we spend most of our time in front of a code editor, such a basic part of our workflow matters a lot, and is worth
discussing. Through a live demonstration, well explore selection oriented modal text editing and what makes Kakoune the best code
editor out there.
Maxime Coste is a video game technology programmer by day, Linux enthusiast by night, and has been investing far too much free time into writing the tool he spends most of his time working with: Kakoune.

Road to publish
by
Raul Portales
In the road to publish an app, there is more than just Software Engineering, it is Product Engineering. In this talk Raul presents several topics about Product Engineering taking concepts from Agile development, Lea startup and UX design that are relevant to anyone that is making or planning to make apps.
Gosia Sokolowska (SRE at Google) will be talking a bit about her unusual path to SRE and about what SRE do in Google.